This summer the NMAI will host a Silent Benefit Auction, beginning July 21st, and concluding on Thursday, September 8th. We will be auctioning 27 wonderful illustrations, prints and vacations to benefit the preservation and growth of the NMAI's distinguished collection of Golden Age illustration art, the Most American of American Art!
Bids will be accepted in person at the NMAI, via telephone, and via email. Bids can be made on any number of items, and we will contact you if you are outbid to give you the opportunity to bid again. Alternatively, each item will have a "Buy It Now" price, allowing patrons to forego bidding and purchase the desired item immediately.
We hope you will participate in this Benefit Auction and support American Illustration Art.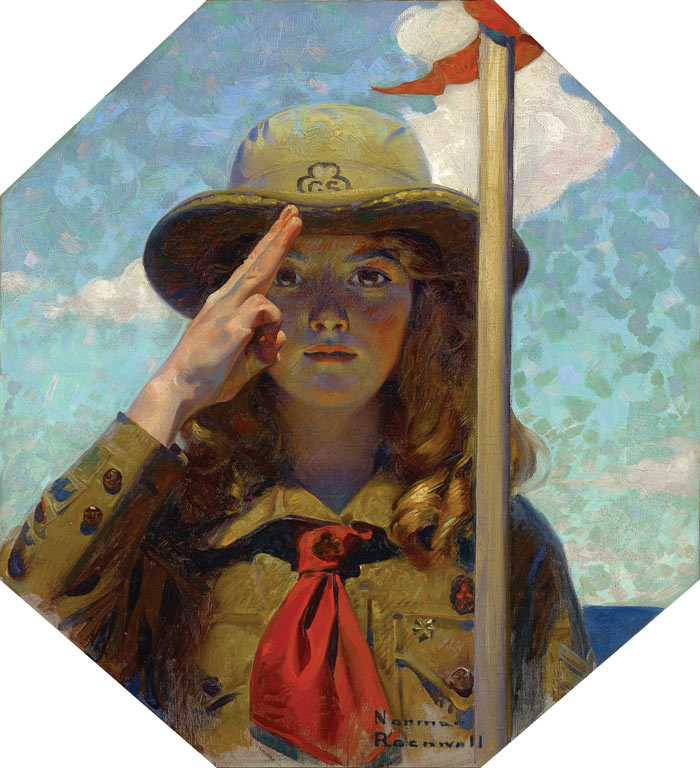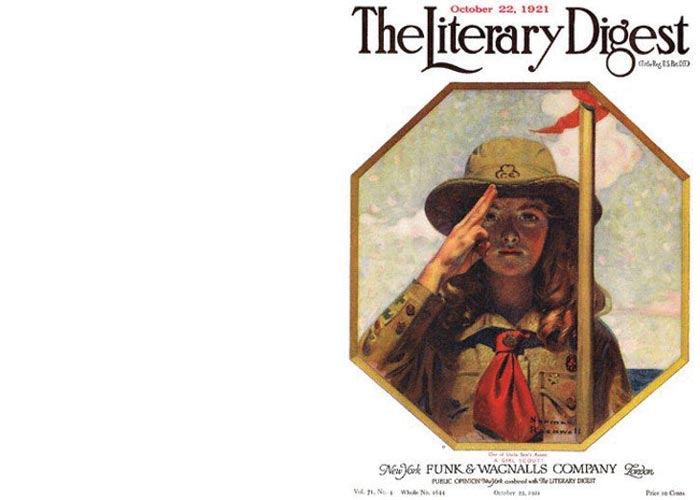 Lot No. 2
Norman Rockwell (1894-1978)
One of Uncle Sam's Assets
1921, oil on canvas
18" x 16 3/8", signed lower right
Literary Digest, October 22, 1921 cover
Estimate: $250,000 - $350,000
Norman Rockwell created 48 covers for The Literary Digest between 1918 and 1923. These covers were painted in two distinct styles: isolated characters against a white background, or enclosed within a circular or irregularly shaped, detailed background. One of Uncle Sam's Assets uses an octagonal canvas to frame the patriotic young Girl Scout giving the proper Salute to the American flag, a portion of which can be glimpsed in the upper right corner. Rockwell took great care in the details of her uniform, ensuring all badges, pockets and accessories were depicted correctly. He also used a spectrum of colors to highlight the girl's face, giving her the glow of youth and the portrait a warm quality.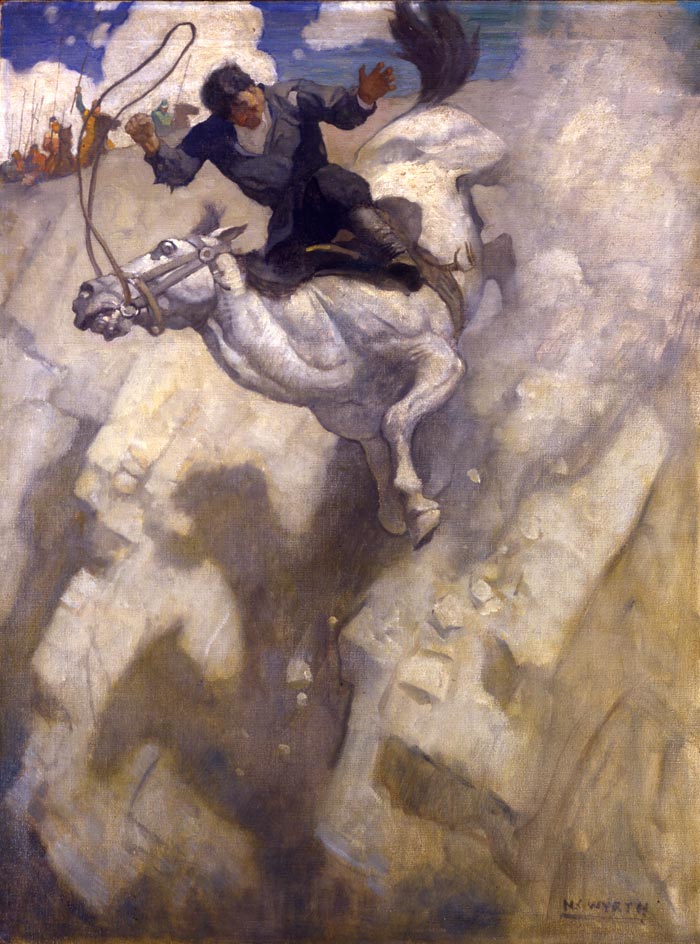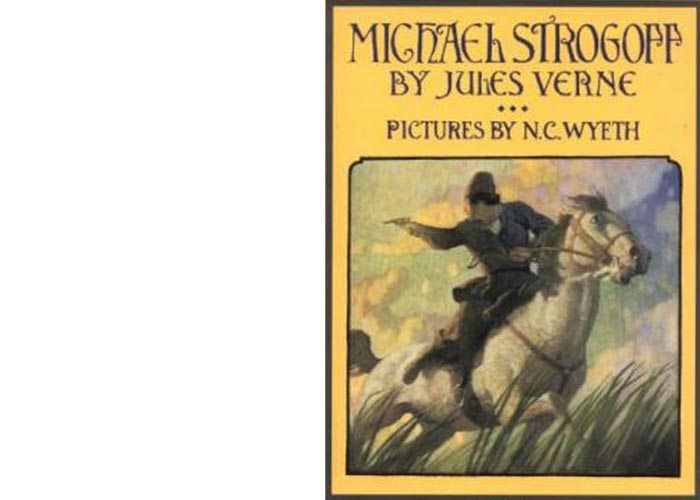 Lot No. 3
N.C. Wyeth (1882-1945)
The Horse Fell with His Rider to the Bottom of the Cliff
1927, oil on canvas
40 1/4" x 30 1/4", signed lower right
Michael Strogoff, by Jules Verne, Scribner's, 1927, fp. 312
Estimate: $150,000 - $200,000
One of the most successful illustrators of all time, N.C. Wyeth painted nearly 4,000 illustrations for magazines and books. In 1911, he illustrated Treasure Island for noted publisher Charles Scribner's Sons. This was so well received that he illustrated a whole range of "boy's adventure books," which came to be known as Scribner's Classics. Wyeth's valiant and heroic characters created prototypes of our American heroes.
In this Scribner's Classic, titular character Michael Strogoff is sent as a courier of the Russian Czar on a journey to warn troops of a traitor within their ranks. He is taken prisoner by the enemy and blinded as punishment. In this illustration, Wyeth captures the terrifying moment the blinded Michael leads his horse off a cliff as the enemy chases them. The distorted position of the horse with clouds of rubble gathering behind them emphasize the chaos of this moment and leave their fate in question.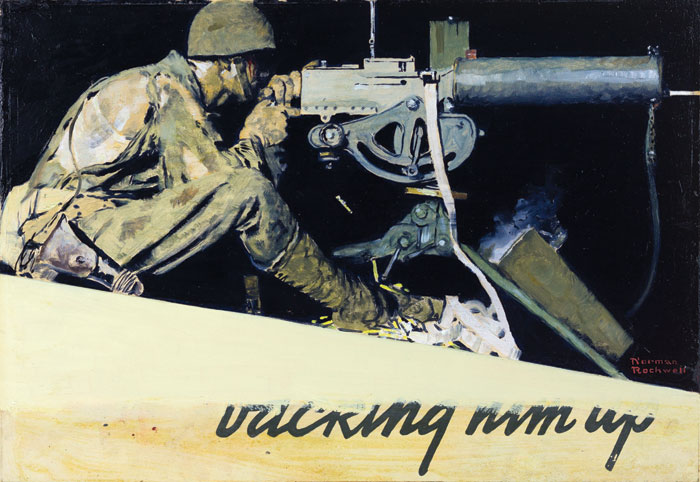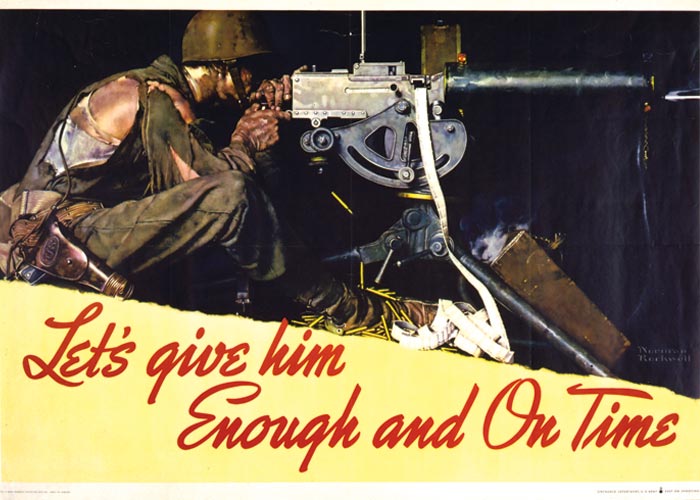 Lot No. 4
Norman Rockwell (1894-1978)
Let's Give Him Enough and On Time - Study
1942, oil on board
14" x 19", signed lower left
Study for United States Army Poster, 1942
Estimate: $500,000 - $700,000
Rockwell achieved the highest level of detail and accuracy in his illustrations through his diligent selection of models and props, arranging those items within the proper setting, and photographing the scene before beginning his artwork. By painting from these photographs, Rockwell ensured every expression, posture, prop and background was accurate.
For this 1942 United States Army Poster, Rockwell had Colonel Fairfax Ayers, a retired Army officer and Arlington neighbor, arrange to have a gun crew and machine gun sent to his studio. Rockwell focused on the details of this wartime scene, ripping the gunner's shirt into tatters and including the fine intricacies of the machine gun. Empty bullet shells fall from the smoking machine gun as the soldier focuses forward on his target.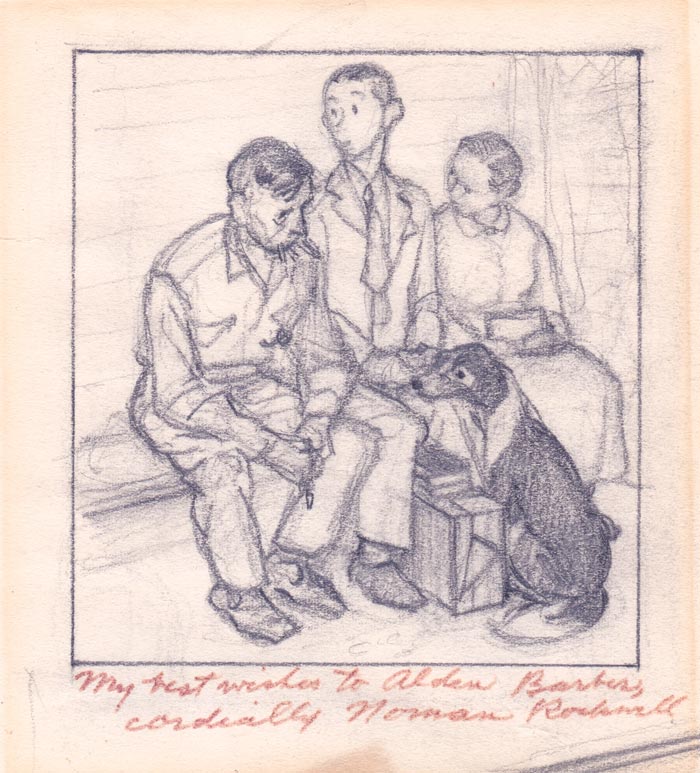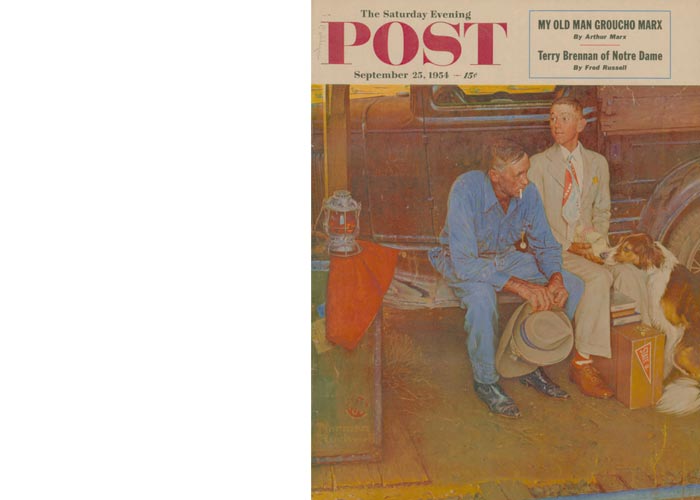 Lot No. 6
Norman Rockwell (1894-1978)
Breaking Home Ties - Study
1954, pencil on paper
4 1/4" x 4", signed below
Study for Saturday Evening Post, September 25, 1954 cover
Estimate: $30,000 - $40,000
This pencil study for the September 25, 1954 Saturday Evening Post, demonstrates Rockwell's meticulous process to develop cover ideas. Rockwell explained: "It is extremely important to develop a cover idea which is good. No matter how well you paint a story-telling picture, if the idea is not good it will be a failure and people will ignore it." This concept drawing became one of Rockwell's most memorable covers, Breaking Home Ties, with the final painting selling for over $15 million in 2006.
As with most of Rockwell's successful illustrations, this scene blends a sincere moment with humor to reach each viewer. This family exhibits juxtaposing emotions waiting at the train stop to send their son off to college. The son looks eagerly off canvas searching for the coming bus, while his father slouches over, nostalgically thinking of the past with his son. In the final version, Rockwell eliminated the mother and gave the care package to the son to hold, creating a more powerful masterpiece.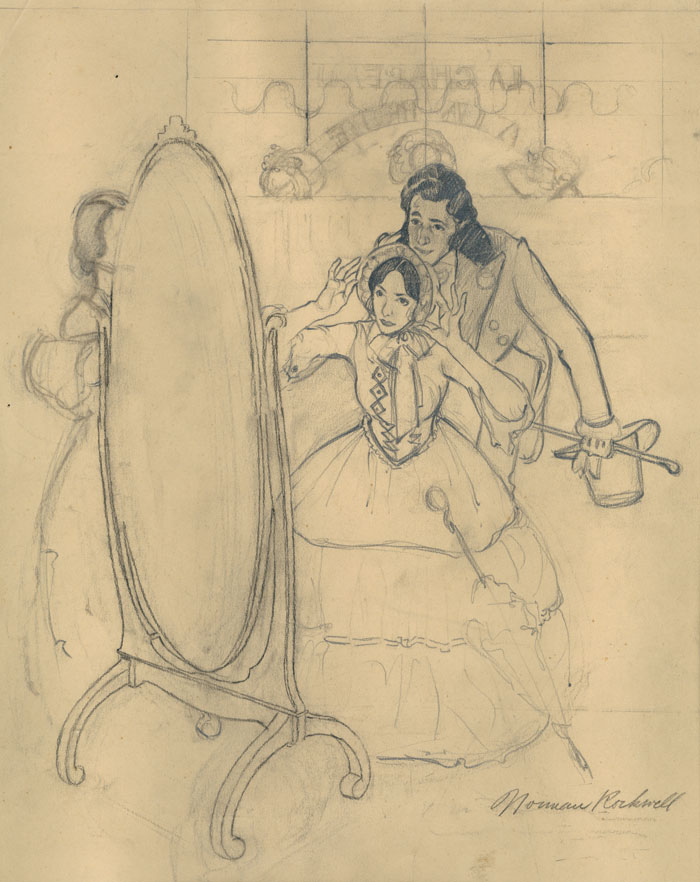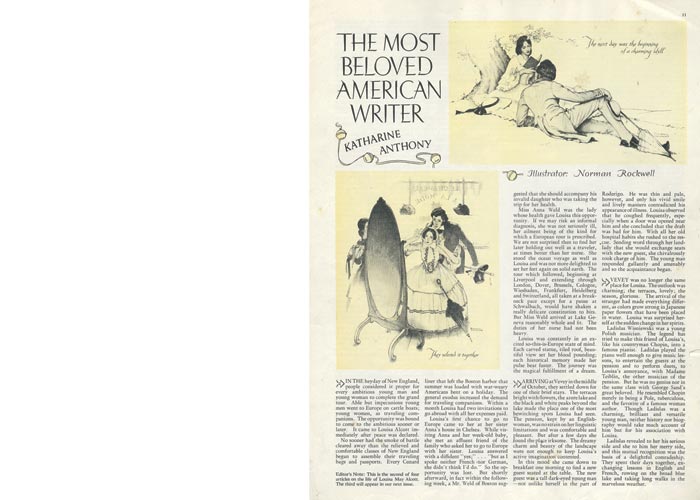 Lot No. 7
Norman Rockwell (1894-1978)
They Selected It Together - Study
1938, wolfe pencil on paper
15 3/8" x 13 1/4", signed lower right
"The Most Beloved American Writer," by Katharine Anthony, Woman's Home Companion, January 1938, pg. 11
Estimate: $25,000 - $35,000
Serialized in four issues of Woman's Home Companion, Katharine Anthony wrote a series of articles on the life of Louisa May Alcott, titled "The Most Beloved American Writer." Norman Rockwell's illustrations for the articles highlighted the life of Alcott as well as the characters she created in her acclaimed stories.
Alcott travelled to Europe where she met Ladislas (Laddie) Wisniewski, a young Polish musician, who would become her companion for some time while she was traveling. Rockwell drew several scenes of Alcott with Laddie as they traveled together to accompany Anthony's writings. This study shows Alcott and Laddie shopping for a bonnet in a Parisian hat shop, "Le Chapeau a la Mode" ("The Fashionable Hat") written on the shop window. Laddie was later inspiration for Little Women's Laurie, the boy next door who marries Amy, the youngest of the March family's daughters.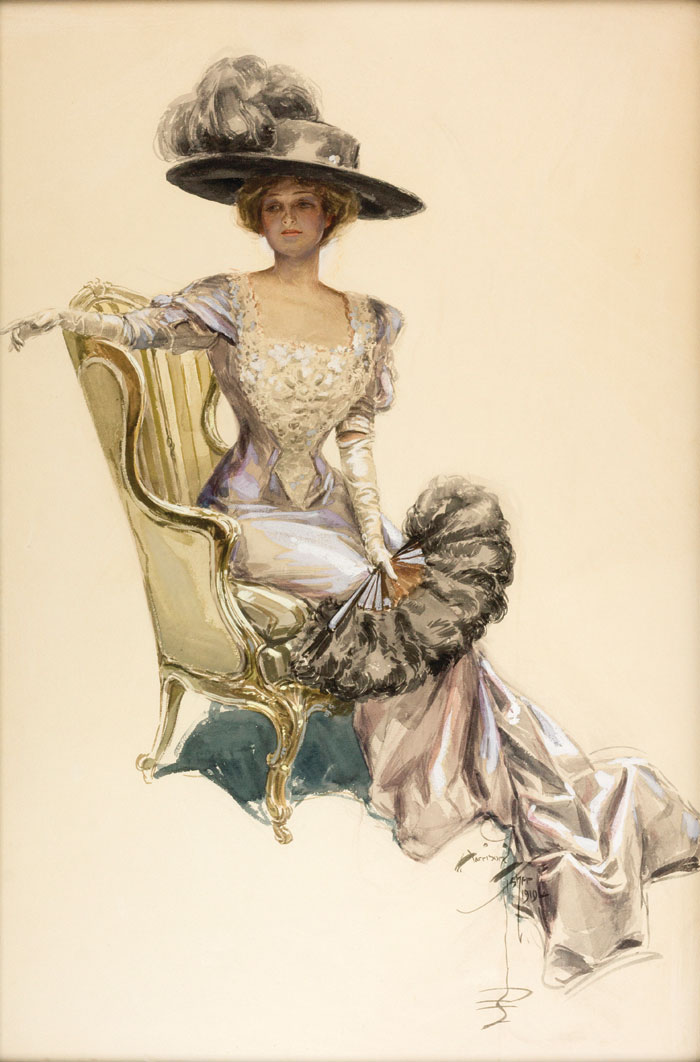 Lot No. 8
Harrison Fisher (1875-1934)
The Best of the Ball
1910, watercolor and ink on board
28" x 18 1/2", signed lower right
A Garden of Girls, by Harrison Fisher, 1910, #7
Estimate: $25,000 - $35,000
Harrison Fisher's "Fisher Girl" was recognized as the epitome of feminine beauty in America during the first quarter of the 20th century. She was lithe, elegant and beautiful, but also cultured, independent, and intelligent. These images of the ideal American woman were printed on the covers of the nation's most popular magazines, including Cosmopolitan, Ladies' Home Journal and the Saturday Evening Post, as well as gift books. From 1907 to 1914, Fisher illustrated 15 gift books featuring his beautiful "Fisher Girls".
A Garden of Girls featured illustrations of women in highly cultured, sophisticated settings, accentuating the intelligence of women alongside their beauty. The Best of the Ball highlights a young woman dressed in a fashionable hat with matching feather fan, perched on an elegant arm chair. Her delicate femininity is emphasized in her seemingly effortless perfect posture and gracefully outstretched arm.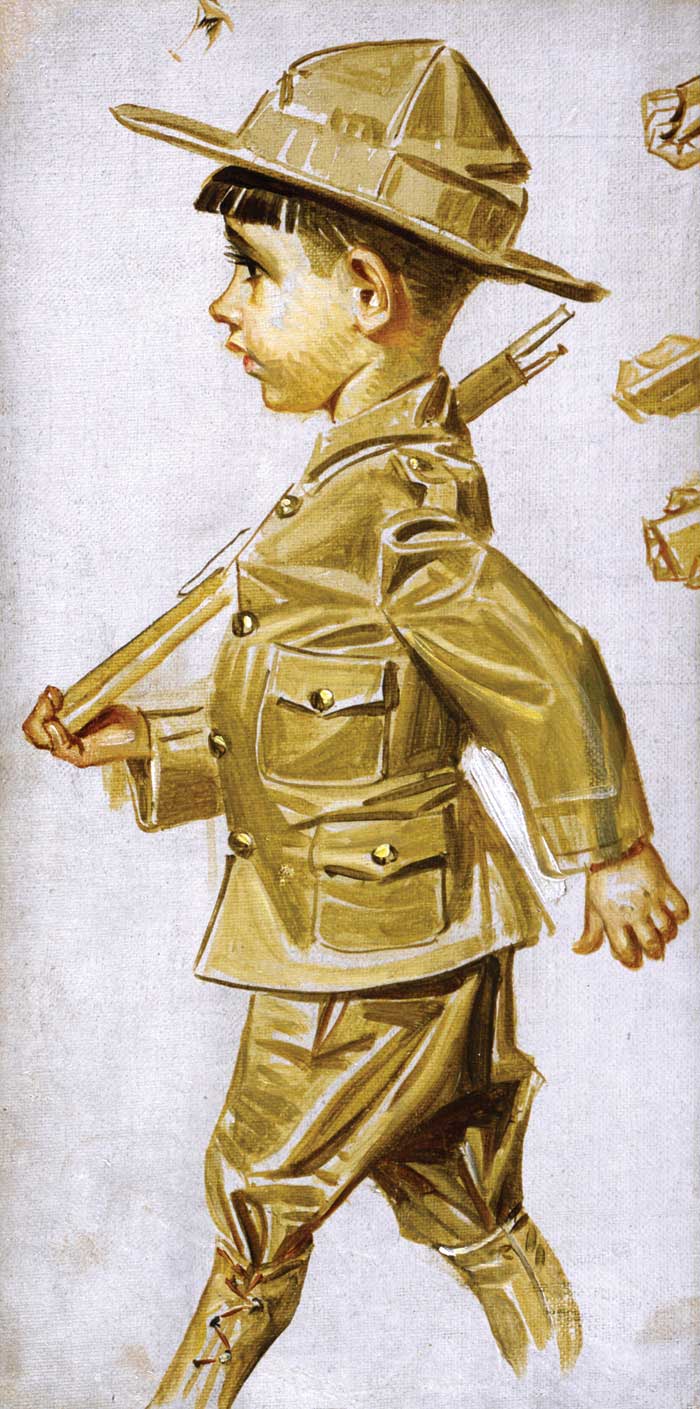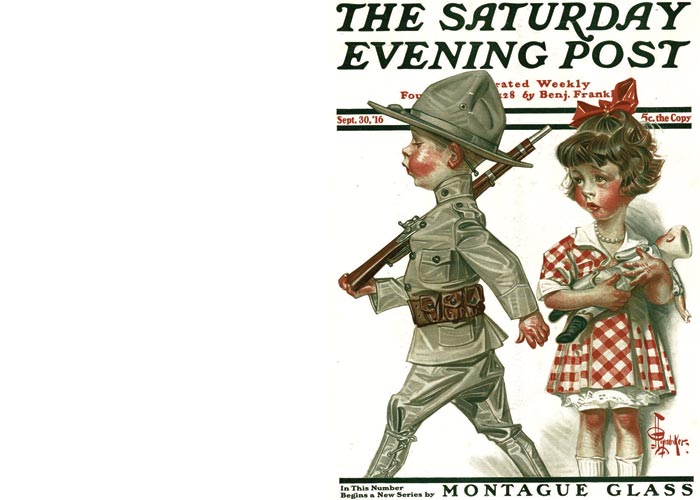 Lot No. 9
J.C. Leyendecker (1874-1951)
Marching Boy in Uniform - Study
1916, pencil and oil on canvas
11 1/2" x 5 1/2", signed mat
Study for Saturday Evening Post, September 30, 1916 cover
Estimate: $25,000 - $30,000
"One can often work directly from the model, whereas a cover requires more careful planning and should be designed to fill a given space on the order of a decoration. My first step is to fill a sketch pad with a number of small, rough sketches about two by three inches, keeping them on one sheet so you can compare them at a glance. Select the one that seems to tell the story most clearly and has an interesting design. Enlarge this by squares to the size of the magazine cover adding more detail and color as needed." – J.C. Leyendecker
J.C. Leyendecker painted 322 covers for the Saturday Evening Post from 1899 to 1943. Painted during World War I but before the United States joined the Allied Powers, Leyendecker here depicts a young boy dressed in a military uniform with rifle, stiffly marching across the cover. This cover was a poignant reminder to all Americans of where the country was headed in those increasingly hostile times.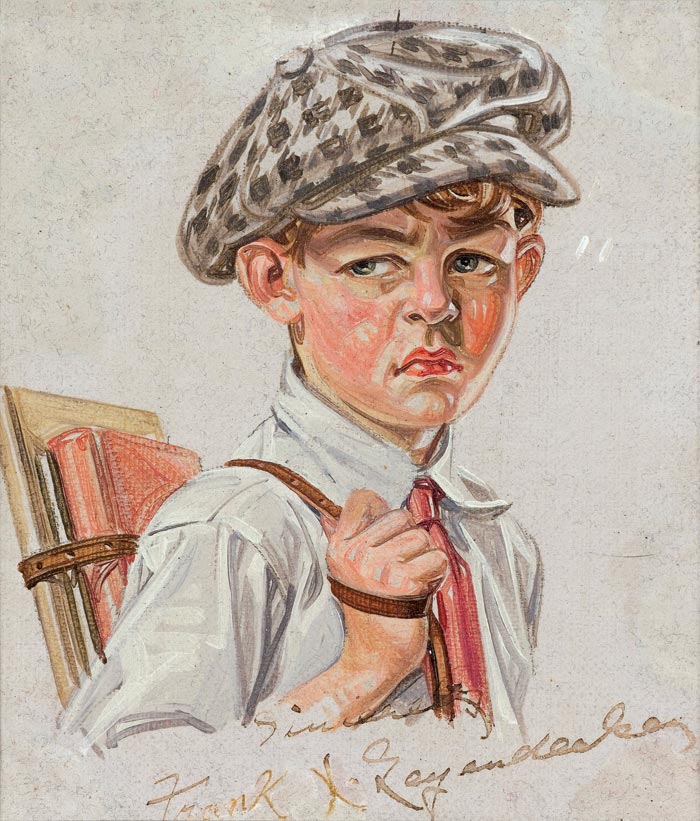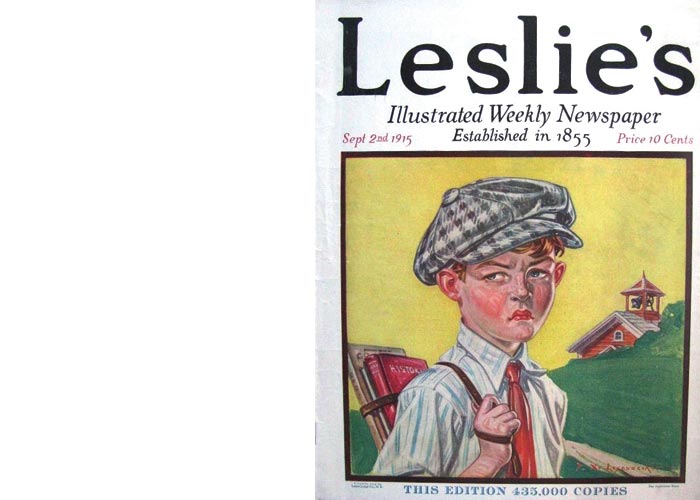 Lot No. 10
F.X. Leyendecker (1877-1924)
Hating School - Study
1915, oil on board
5 1/2" x 5", signed lower center
Study for Leslie's Illustrated Weekly, September 2, 1915 cover
Estimate: $15,000 - $20,000
The younger brother of J.C. Leyendecker, Frank Xavier (F.X.) had a notable career—albeit shorter than his brother's—in magazine and advertising illustration. F.X. apprenticed under Carl Brandt, a stained glass artisan from Vienna, before studying at the Academie Julian with his brother, where they cultivated their artistic talents. In 1897, the Leyendecker brothers moved to Chicago to open a successful studio, and in 1914 moved to New Rochelle, NY, a blossoming artist community. F.X. illustrated covers for Collier's, Leslie's, Vogue, and the Saturday Evening Post, as well as advertising campaigns for Palmolive Soap, Luxite Hosiery, and Remington Arms.
This study for the September 2, 1915 cover of Leslie's Illustrated Weekly humorously highlights a young student's despondent and grim feelings towards heading to school. With his book bundle resting over his shoulder, the student looks off the canvas, presumably at the playground where he would rather be heading.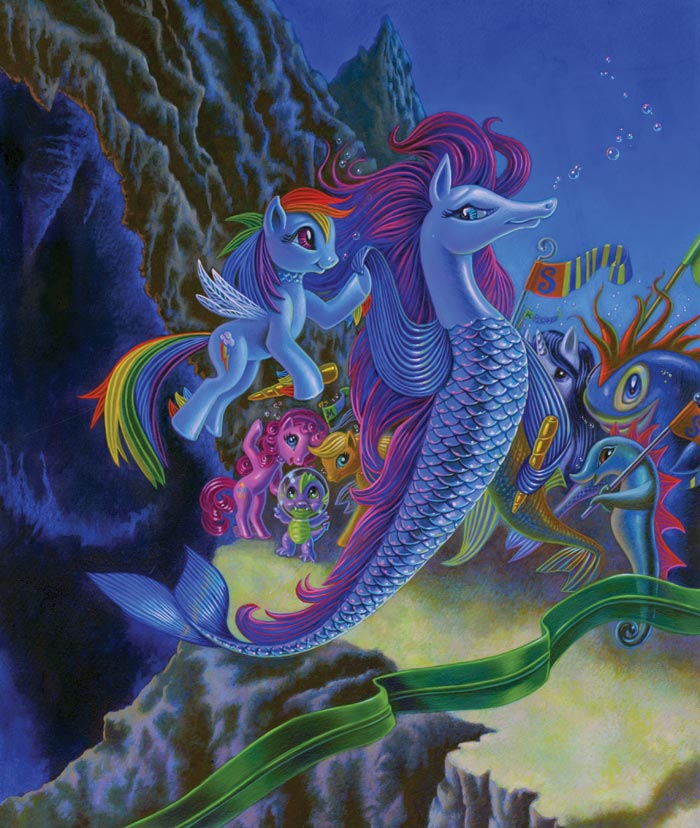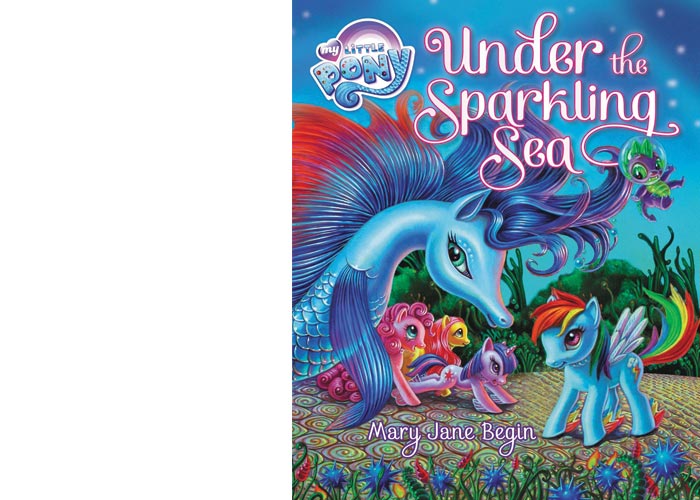 Lot No. 11
Mary Jane Begin 
Victory!
2012, watercolor, pastel, colored pencil and acrylic
15" x 13", signed lower right
Under the Sparkling Sea, by Mary Jane Begin, Little, Brown & Co., 2013, pg. 35
Estimate: $5,000 - $7,000
Mary Jane Begin is an award-winning illustrator known for her acclaimed and much-beloved children's picture books, including: Willow Buds, A Mouse Told His Mother, Little Mouse's Painting, R is for Rhode Island Red, and My Little Pony: Under the Sparkling Sea. She is known for her intensely detailed, whimsical and vibrant children's illustrations. Mary Jane uses her unique mixed media techniques to infuse her work with light and lush colors, bringing her art to life. She is the recipient of many awards, including the Stevan Dohanos Award from the Society of Illustrators, multiple Awards of Excellence from Communications Arts, the Irma Simonton Black Award, and the Critici Erba Prize at the Bologna Book Fair, Italy.
In Victory!, the story's protagonists, Rainbow Dash and Electra, cross the finish line of the race through the caves together, ending in a tie for the first time. Their friends are depicted in the background, cheering at the race's end.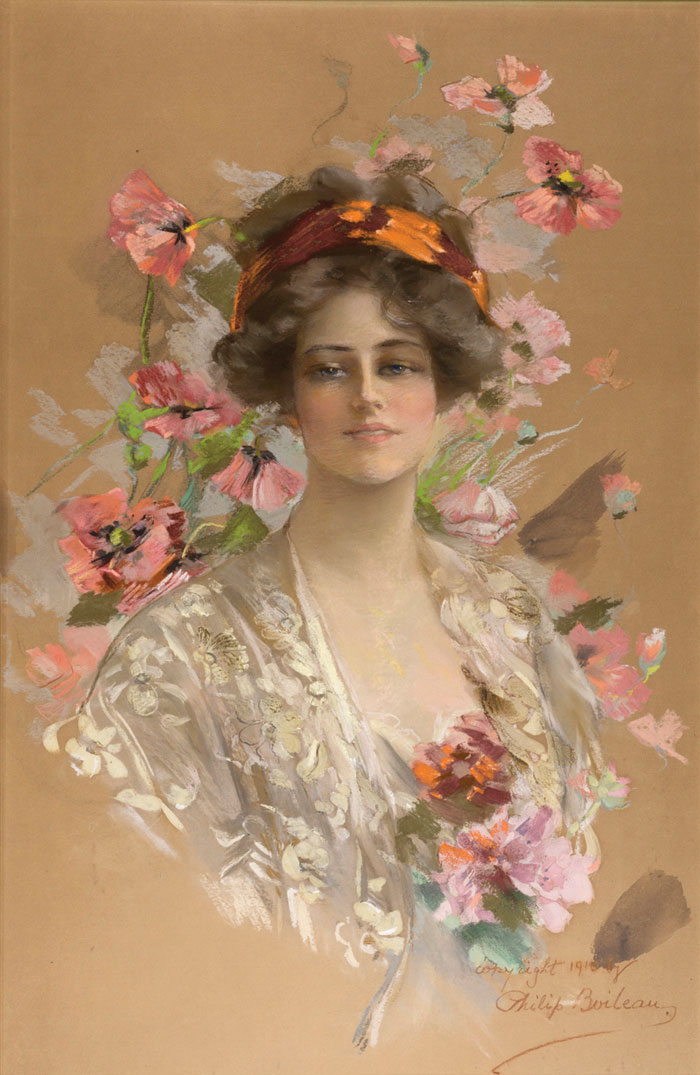 Lot No. 12
Philip Boileau (1864-1917) 
Red Poppies
1910, watercolor, gouache and pastel on paper
27 1/4" x 17 1/2", signed lower right
Osborne Co. Calendar illustration, 1910
Estimate: $15,000 - $20,000
With his wife, Peggy, as his model, Philip Boileau created beautiful illustrations of the ideal American woman for calendars and postcards. Similar to Harrison Fisher's "Fisher Girl" and Charles Dana Gibson's "Gibson Girl," Boileau's women were both beautiful and elegant, imbued with a sense of grace and dignity that women aspired to. His illustrations typically showed Peggy in a classic 3/4 portrait pose, gazing out toward the viewer with a delicate, relaxed expression. She was always dressed in the most fashionable clothing of the time, complete with a large hat or surrounded by flowers.
Red Poppies is emblematic of the popular calendars Boileau created. Peggy is dressed in an intricate lace dress with abstract flower arrangement around her. Her gentle gaze is directly toward the viewer, peaceful and compassionate.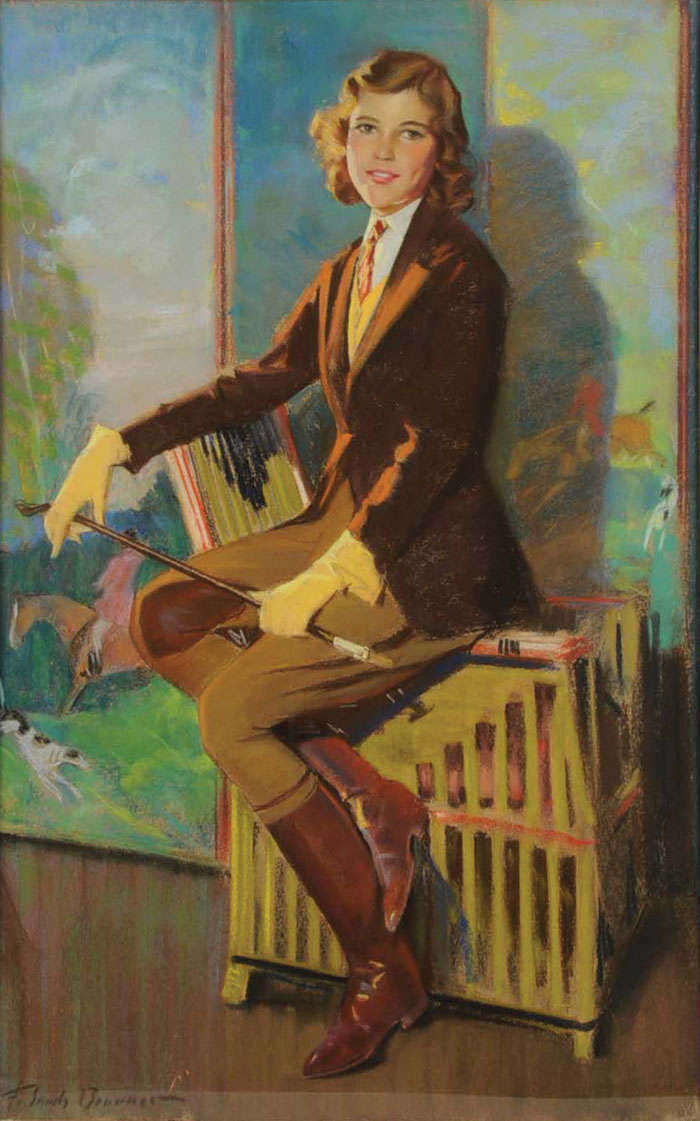 Lot No. 13
F. Sands Brunner (1886-1954) 
Portrait of Sybil (Artist's Daughter)
Pastel on board
29" x 18", signed lower left
Estimate: $7,500 - $10,000
Brunner excelled in heart-warming images of women and children, capturing tender family moments popular in magazines and calendars. His delicate handling of pastels using the full spectrum of color allowed him to create a softness that was perfect for these tender images. Brunner had two daughters, Sybil and Janet, who frequently modeled for him. In this Portrait of Sybil, Brunner shows her dressed in traditional riding attire with crop in hand, against a equestrian decorative screen. The careful blending of colors gives the image a glow and warmth that draws the viewer into the scene. The tender love that Brunner has for his daughter Sybil is passed through the image to the viewer.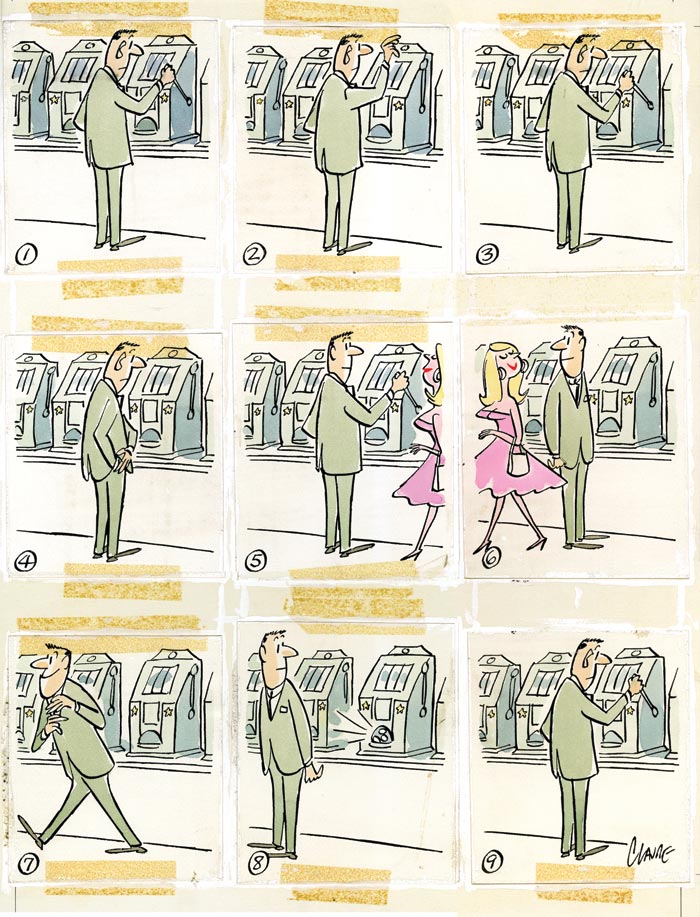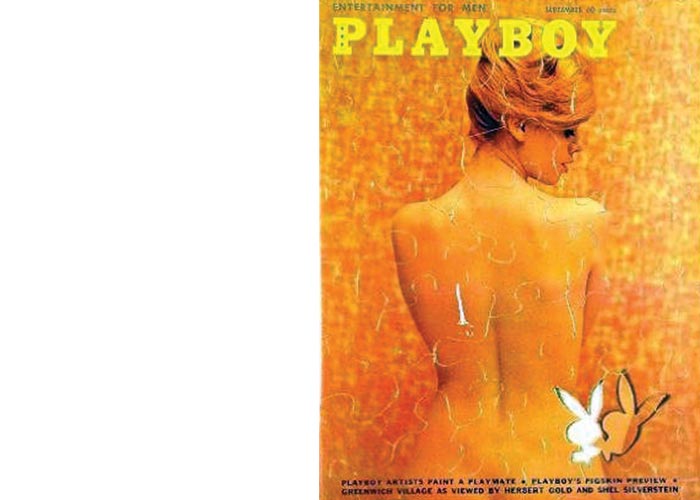 Lot No. 14
Claude Smith (1913-2003) 
Playboy Cartoon, September 1960
1960, ink and wash on paper
17 3/4" x 13 3/4", Each cell: 5" x 4 1/2", signed lower right
Playboy, September, 1960
Estimate: $7,000 - $7,500
Playboy magazine launched in 1953 to immediate success, despite its risqué nature. Along with seductive photos of eponymous "Playmate" models, Playboy also has a notable history of publishing both short stories and cartoons in each issue, launching the careers of numerous authors and artists including Ian Fleming, Vladimir Nabokov, P.G. Wodehouse, Haruki Murakami, Shel Silverstein, Alberto Vargas, and Claude Smith.
Smith's September 1960 cartoon depicts a gambling man who catches the eye of a flirtatious young woman passing by. Initially making a move to pursue his new love interest, the sounds of a winning reel call him back to the slot machine, and he ultimately decides a gamble for love just isn't quite as fulfilling as a gamble for money.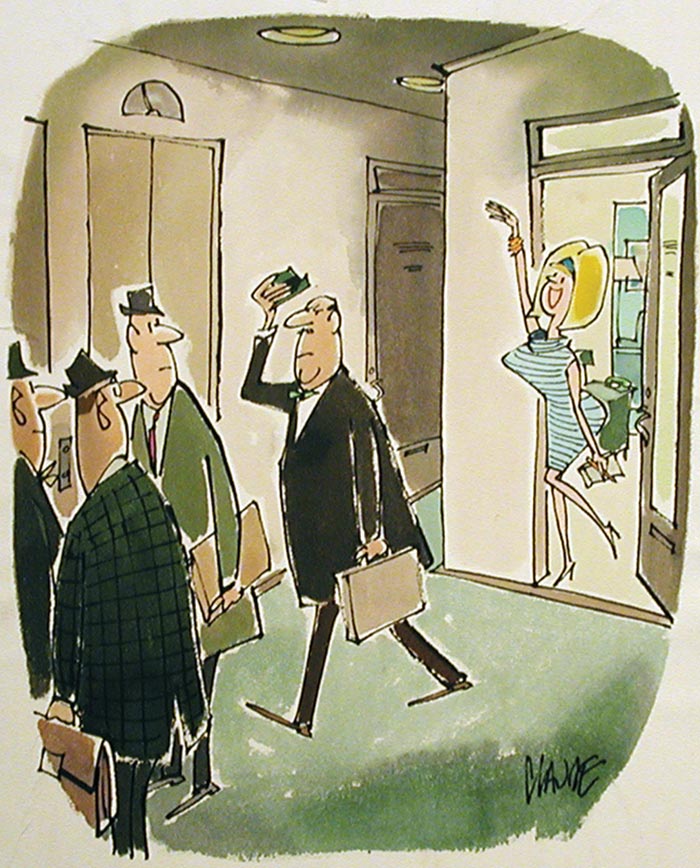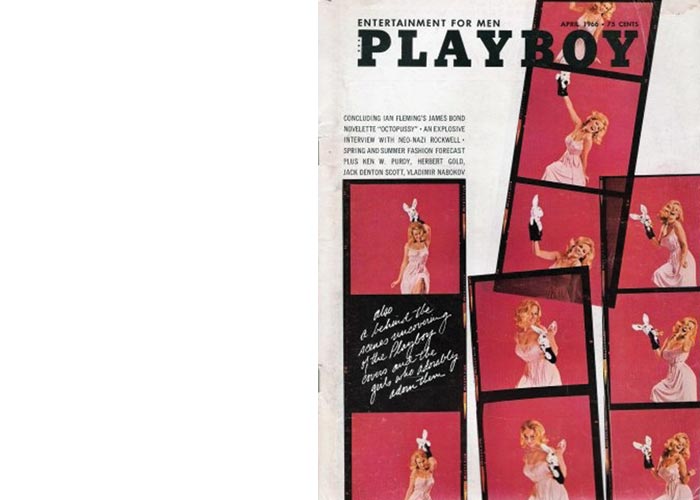 Lot No. 15
Claude Smith (1913-2003) 
Playboy Cartoon, April, 1966
1966, ink and wash on paper
13 1/2" x 10 1/2", signed lower right
Playboy, April 1966
Estimate: $5,000 - $5,500
Cartoons in Playboy have run without interruption from the magazine's first issue in 1953. In March 2016, Playboy underwent a massive design overhaul, eliminating nude images, longer articles, smaller ads, and the sprinkling of single panel and strip comics that were previously tucked amongst the pages of each issue. In lieu of its famous comics, the magazine now features a single cartoonist or animator each month in its "Artist in Residence" section.
Smith's April 1966 cartoon features a woman at her office waving goodbye to a group of businessmen. What have they all been up to...?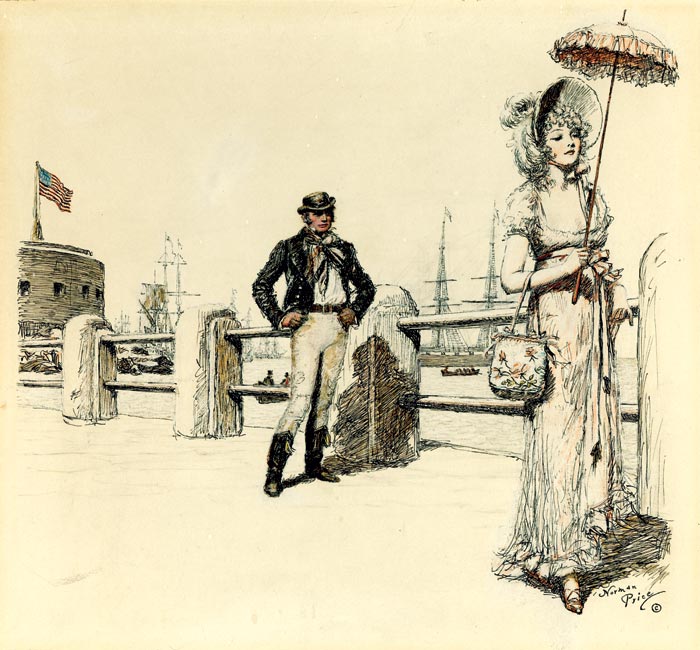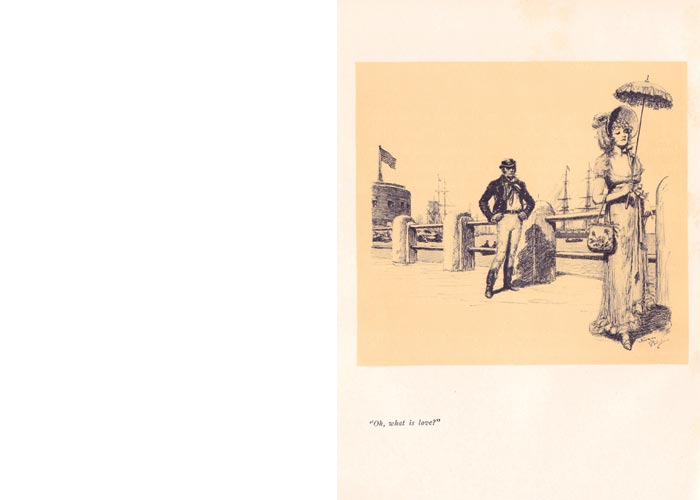 Lot No. 16
Norman Price (1877-1951) 
Oh What is Love?
1930, pen & ink, pencil and watercolor on board
13 1/4" x 14", signed lower right
The Happy Parrot, by Robert W. Chambers, Appleton & Co., 1931, fp. 1
Estimate: $2,000 - $2,500
In 1912, Norman Price moved to New York City to establish himself as a professional illustrator. Almost instantly successful, magazine editors and readers enjoyed looking at the well-researched details in the authentic costumes and accuracy in all aspects of Price's illustrations. Price's favorite subjects were characters from great classic novels, transporting the reader to a specific place in history.
Oh What is Love? is a perfect example of the type of artwork that brought Price success in story illustration. A young woman clothed in a long dress with matching hat, bag, and parasol walks along a harbor towards the viewer. The gentleman she passes watches her walk away, with his hands on his hips.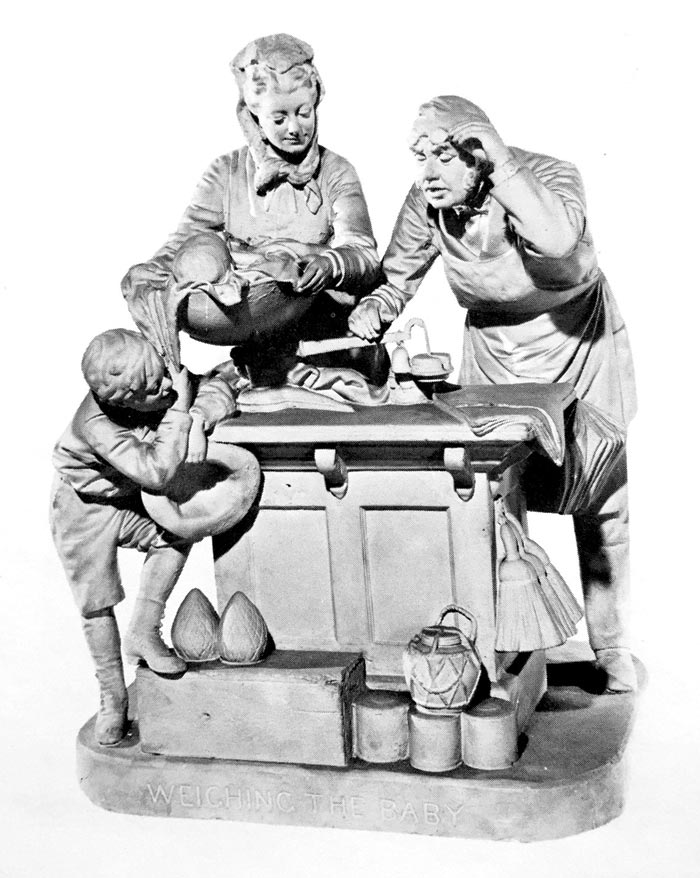 Lot No. 17
John Rogers (1829-1904) 
Weighing the Baby
1876, plaster
Height: 21", Base: 15" x 14 1/2"
Patented in 1876
Estimate: $1,200 - $1,500
After apprenticing in Boston and a year of formal sculpture training in Europe, John Rogers opened his own studio in New York City at the age of 27. Rogers wanted to create high-quality, low-cost plaster casts of his sculptural "groups" (so-named because each sculpture typically contained two or more figures). These groups generally fell into three categories: Civil War vignettes, everyday 19th century life, and theatrical scenes.
Weighing the Baby is a classic example of an everyday life group, showing a mother bringing her newborn baby to the country store to be weighed. Rogers' wife posed for the role of the mother, and his son for the mischievous brother tugging at the baby's blanket. The various props of a country store—all accurate to the times—are laid around the counter, completing the humorous scene.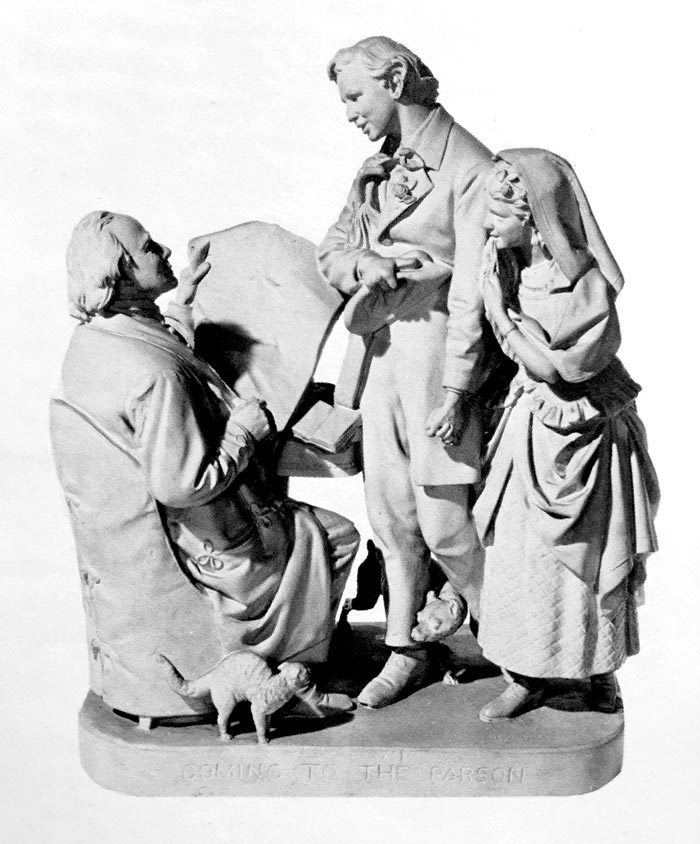 Lot No. 18
John Rogers (1829-1904) 
Coming to the Parson
1870, plaster
Height: 22", Base: 16 1/2" x 9 1/2"
Patented in 1870
Estimate: $1,200 - $1,500
By creating numerous casts of each piece, Rogers was able to keep the cost of his groups reasonable and within reach of middle-class Americans. Between 1860 and 1893, Rogers created 90 groups which were reproduced over 100,000 times.
In another everyday scene, Coming to the Parson shows a shy, young couple approaching a minister to make wedding plans. The future bride steps behind her betrothed as the minister looks up from his newspaper. Their new love is humorously juxtaposed by the cat and dog who are sneering at each other on the floor. More than 8,000 copies of this group were sold, many as wedding presents.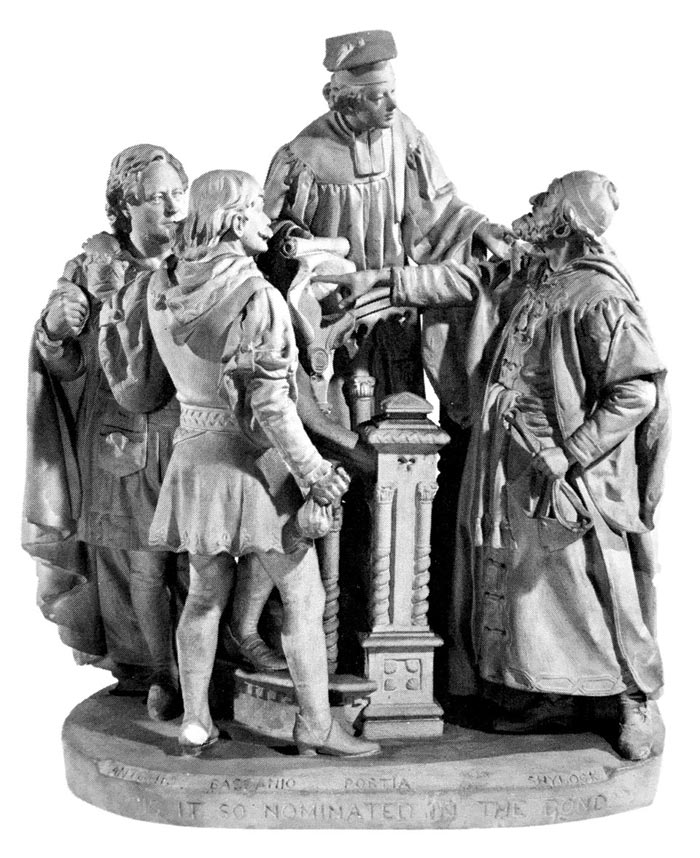 Lot No. 19
John Rogers (1829-1904) 
Is It So Nominated in the Bond?
1880, plaster
Height: 23", Base: 19 1/4" x 11"
Patented in 1880
Estimate: $1,200 - $1,500
"I think of devoting myself to illustrate or make Shakespearean subjects for the present. I wonder I have never undertaken Shakespeare before. I could find illustrations for anything in it and taking it from such a source would make it familiar to every one - then again the costumes are so much more picturesque... Taking my designs from Shakespeare will give them a dignity that everyday subjects don't have." – John Rogers
A scene from Shakespeare's Merchant of Venice, Rogers captures the play's pinnacle moment at trial, when Shylock's penalty of a pound of flesh is due for his debt to Antonio. Portia, dressed as a lawyer, urges Shylock to accept the gold offered to him by Bassanio, his friend. When Shylock refuses the money, Portia requests a doctor to remove the flesh, to which Shylock exclaims "Is it so nominated in the bond?"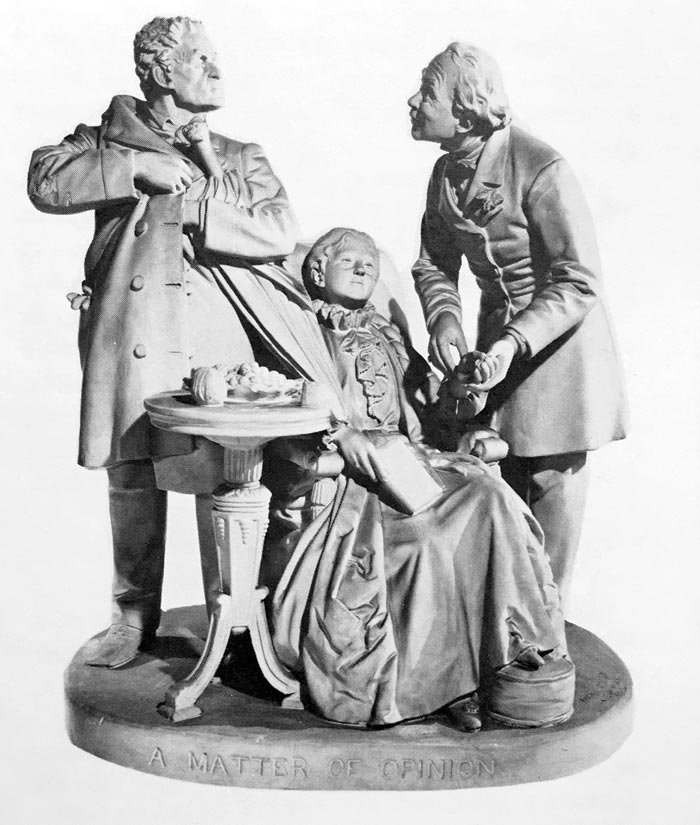 Lot No. 20
John Rogers (1829-1904) 
A Matter of Opinion
1884, plaster
Height: 21", Base: 17 1/4" x 12 1/2"
Patented in 1884
Estimate: $1,200 - $1,500
A favorite group for those in the medical profession, A Matter of Opinion is a humorous look at a disagreement between two doctors during a house call. Rogers described the scene as: "A lady who is supposed to be an invalid is seated in a chair. Standing at her side, on her left, is a doctor who is holding her hand and feeling her pulse. He is apparently urging his opinion of the lady's troubles, and is trying to win the doctor who stands opposite, on the lady's right hand, and who has probably been brought in for a consultation to his view of the case, but without success, as he is indignantly buttoning up his coat and preparing to leave. He has an umbrella under his left arm. A small table stands in front of him."
Rogers has been called the "Norman Rockwell of Statuary" for good reason: a similar sense of humor between the two artists shines as the indignant doctor on the left is accidentally poking the poor woman in the stomach with his umbrella.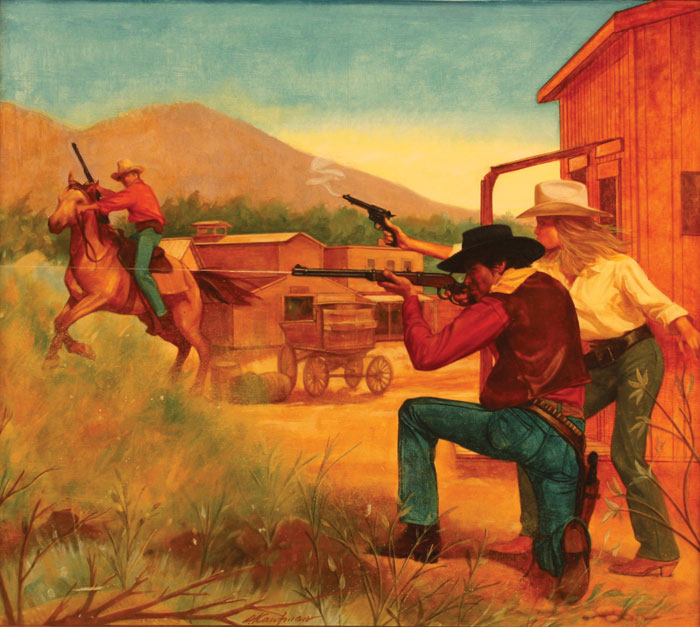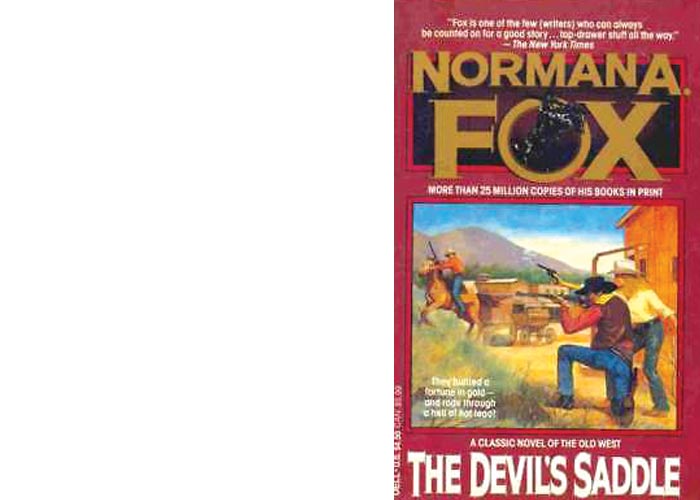 Lot No. 21
Stuart Kaufman (1926-2008) 
The Devil's Saddle
1994, oil on board
15 1/4" x 17 3/8", signed lower center
The Devil's Saddle, by Norman A. Fox, Dell Publishing, 1995, cover
Estimate: $4,000 - $6,000
Born in Brooklyn, New York, Stuart Kaufman received formal training as an illustrator at the Pratt Institute in Brooklyn, and as a member of the Art Students League in New York City. Kaufman's colorful illustrations found great popularity on the covers of action and romance novels, as well as in nationally syndicated magazines including Saturday Evening Post, McCall's Magazine, Good Housekeeping, Esquire, Redbook, and many others.
This cover for Norman A. Fox's The Devil's Saddle is exemplary of the exciting scenes Kaufman illustrated to attract readers. The story chronicles the adventures of "Catastrophe Kate," a gunslinger known to outshoot any man in the Wild West of Montana. Kaufman conveys this story in this single clear image: as a cowboy takes a knee to carefully aim in the foreground Kate steps over him and fires, smoke rising from her gun barrel.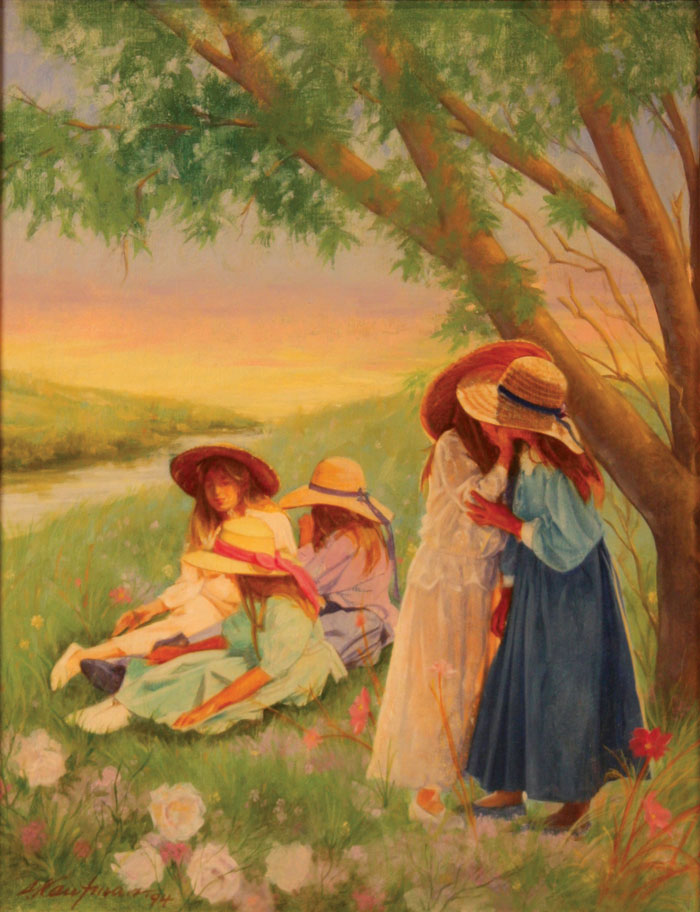 Lot No. 22
Stuart Kaufman (1926-2008) 
Good Little Girls - Study
1994, oil on board
16 1/4" x 12 5/8", signed and dated lower left
Estimate: $3,000 - $5,000
In Good Little Girls, Kaufman highlights the tender moments of childhood with a soft, muted palette and delicate features. Each girl is clothed in modest floor-length dresses and matching straw hats, each with a uniquely colored ribbon. While three of the girls sit in the grass enjoying the setting sun over the river, two sneak under a tree to trade secrets. While the scene is dated by the girl's attire, the innocence of spending the day in a beautiful landscape is a timeless theme.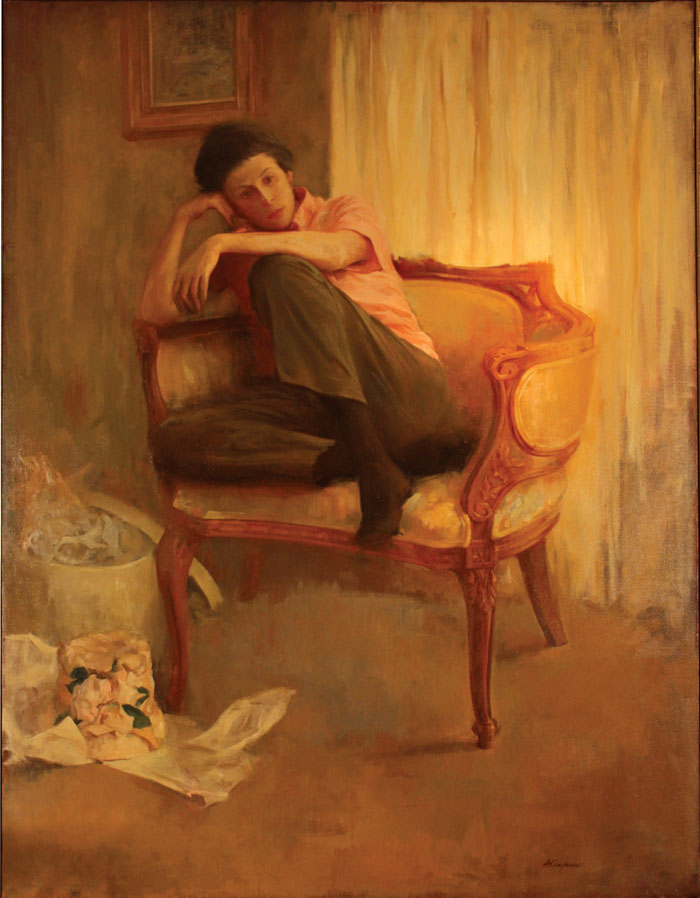 Lot No. 23
Stuart Kaufman (1926-2008) 
The New Spring Hat
1962, oil on canvas
62 1/2" x 47, signed lower right
Estimate: $8,000 - $12,000
Kaufman used his wife, Phyllis, as a model for The New Spring Hat. At an enormous 62 ½" x 47", this painting is one of his most monumental works. The New Spring Hat illustrated an article on Kaufman in Art News Magazine and was exhibited at the Newark Art Museum as well as at the 31st Annual New Jersey State Exhibition, held at the Montclair Art Museum in Montclair, NJ, in 1962.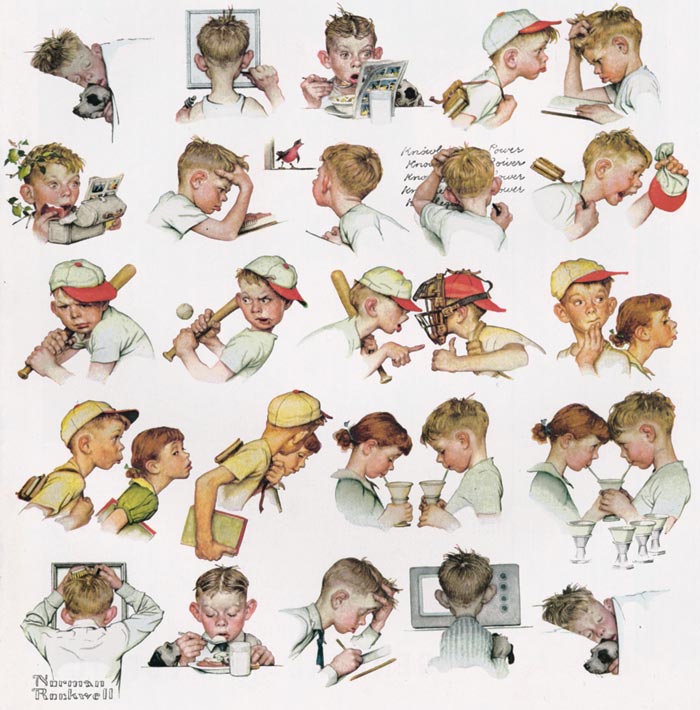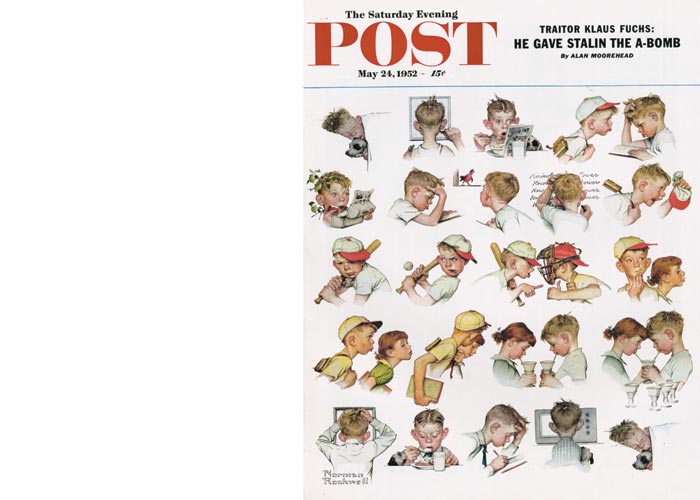 Lot No. 24
Norman Rockwell (1894-1978) 
Day in the Life of a Boy - Print
Print of original painting
Framed size: 24" x 22 1/4"
Saturday Evening Post, May 24, 1952 cover
Estimate: $400 - $500
Norman Rockwell created one of his most timeless and charming illustrations with Day in the Life of a Boy, his painting for the May 24, 1952 cover of the Saturday Evening Post. It was his 272nd cover (of 321 original paintings) for the publication.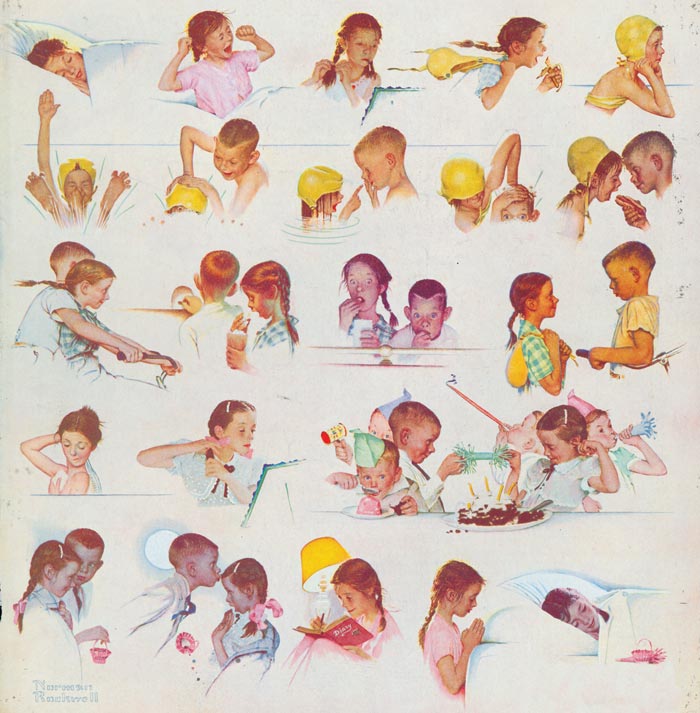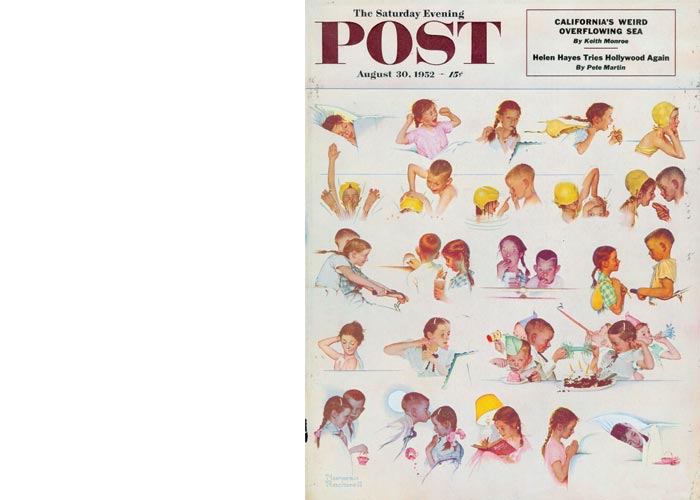 Lot No. 25
Norman Rockwell (1894-1978) 
Day in the Life of a Girl - Print
Print of original painting
Framed size: 24" x 22 1/4"
Saturday Evening Post, August 30, 1952 cover
Estimate: $400 - $500
Nine-year-old Mary Whalen was Rockwell's model for the 22 narrative portraits that comprise Day in the Life of a Girl. Whalen was one of Rockwell's favorite models because she "could look sad one minute, jolly the next, and raise her eyebrows until they almost jumped over her head."
Lot No. 26
Mount Cinnamon Getaway
7-night Bed & Breakfast stay for 2
Estimate: $5,000
Up for auction is a seven-night stay for two in a luxury one-bedroom villa at Mount Cinnamon on Grand Anse Beach, Grenada. Enjoy all the benefits of a B&B stay in one of the Caribbean's most beautiful locales.
• Accommodations with breakfast for two people
• Private airport transfers
• Access to Mount Cinnamon's Beach Club & Cabana
• Access to complimentary tennis courts, pools, and water sports
The winner will be responsible for any additional charges incurred during their stay. Valid until December 31st, 2017. Getaway dates subject to availability.
Graciously donated by Peter de Savary of Mount Cinnamon Grenada.
Lot No. 27
Maine's 360 Hideaway
Davis Island, South of Port Clyde
7-night stay for up to 8 people
Estimate: $15,000
Let the ocean air clear your cares and worries away in this 3,200 square feet house on a private island with 360 degree water views. This island retreat offers three spacious bedrooms and an octagonal great room fully provisioned with Linda Bean's Perfect Maine foods prepared by the island caretakers. Relax with a croquet game on the lawn overlooking the Wyeth islands of Allen and Benner or soothe your mind and body in the open air hot tub or just walk the paths on the island, picking berries, climbing on the rocky shore while soaking in the peace and calm of this 45-acre Maine island.
The winner will be responsible for any additional charges incurred during their stay. Valid until December 31st, 2017. Getaway dates subject to availability.
Graciously donated by Linda Bean's Perfect Maine Vacation Rentals.