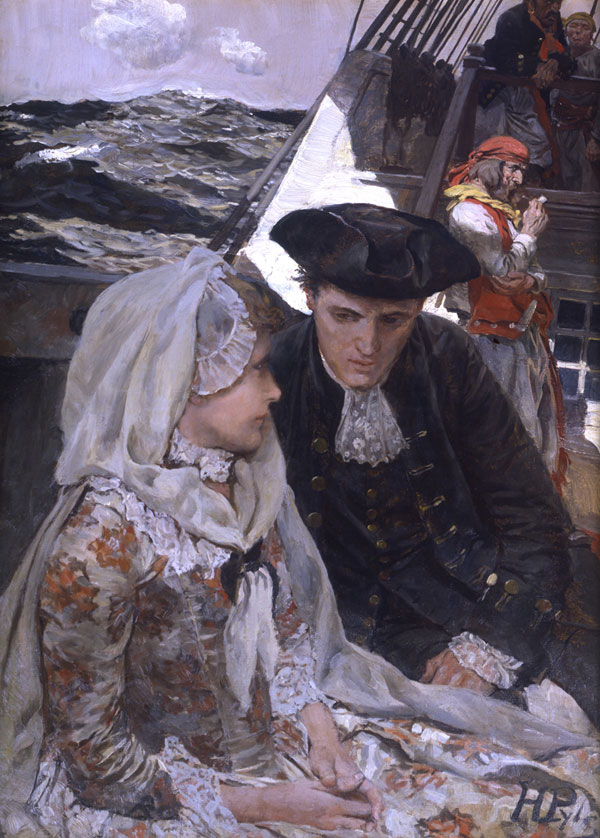 Howard Pyle, His Students & The Golden Age of American Illustration


May 26, 2017 – December

, 2017
Howard Pyle, His Students & the Golden Age of American Illustration is a exhibition featuring oil paintings, works on paper, and accompanying artifacts that highlight the work of Howard Pyle, known as the "Father of American Illustration", and the generation of celebrated illustrators he taught. In 1894, Pyle founded the first School of Illustration in America at Drexel Institute of Art, Science and Industry, now Drexel University, shaping the way illustrators created artworks thereafter.
"A.J. Drexel founded the Drexel Institute in 1891, and when he did, he made it clear that his vision should be accessible for both men and women from all backgrounds, which was unique for a college of that time period," said Paula Marantz Cohen, Pennoni Honors College dean. "Pyle's time at Drexel undoubtedly shaped the field of American Illustration. He was an early parallel advocate of Drexel's philosophy of 'learning by doing' encouraging his students to go out into the world to study their subject matter, an approach reflected in Drexel's present-day Co-op program."
Howard Pyle taught at the Drexel Institute until 1900 when he founded the Howard Pyle School of Illustration in Wilmington, Delaware. His students at both schools became known as "The Brandywine School," which included some of America's greatest illustrators: Stanley Arthurs, Anna and Ethel Betts, Harvey Dunn, Anton Otto Fischer, Philip R. Goodwin, Elizabeth Shippen Green, W.H.D. Koerner, Violet Oakley, Frank Schoonover, Jessie Willcox Smith, Sarah Stilwell Weber and N.C. Wyeth.
Pyle's innovative teaching methods encouraged his students to live their illustrations, therefore painting from experience, not merely from observation. This new principle, taught at the verge of the publishing boom of the 20th century, laid the foundation for a century of America's iconic illustrators. His influences greatly contributed to illustrative painting and drawing becoming one of the truest forms of applied art.
"Today everyone knows the name Norman Rockwell but few people know the name Howard Pyle, let alone his art or his impact on generations of artists and American illustration," says Judy Goffman Cutler, co-founder of the National Museum of American Illustration. "This exhibition will give viewers a first-hand and close-up look at the marvelous original paintings that most people have only seen in reproduction form." To highlight the importance of Pyle's teachings on all of America's Golden Age illustrators, a selection of artworks from later periods will be on display, including Norman Rockwell, J.C. Leyendecker and Howard Chandler Christy.
A 260-page illustrated catalogue will accompany this exhibition, available for pre-order now through the National Museum of American Illustration's Online Museum Shop, click here for more information.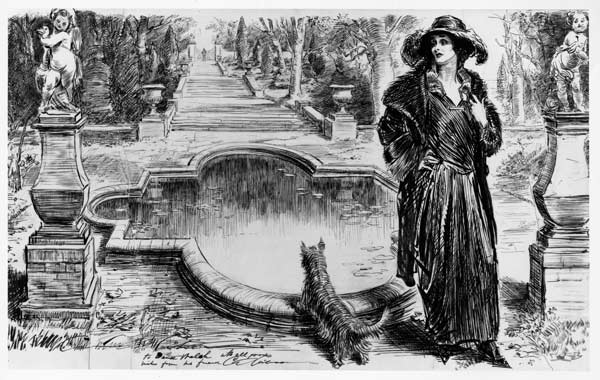 American Muse
May, 2015 – September 3, 2017
The American Muse exhibition is as much an homage to American women of the late 19th and early 20th centuries as it is to the illustrators who accurately portrayed the quintessential yet distinctly American feminine beauty these women embodied. The American illustrators highlighted include Charles Dana Gibson, Harrison Fisher, Philip Boileau, McClelland Barclay, Howard Chandler Christy, Walter Granville Smith and Albert Beck Wenzell.
Each of these illustrators created their own prototypical image of "The American Woman." The public gave these illustrators' artworks generic names as part of their respective oeuvre, most popularly "The Gibson Girl" and "The Fisher Girl." These renditions of the feminine ideal captured the increasingly independent spirit of American women. The illustrations both shaped and reflected American society and its notions of female beauty. Compared to women of previous eras these women relished more freedoms, enjoyed greater opportunities in sports and education, and were in the vanguard during a time when women effected change through social and political movements on an unprecedented scale in Western culture.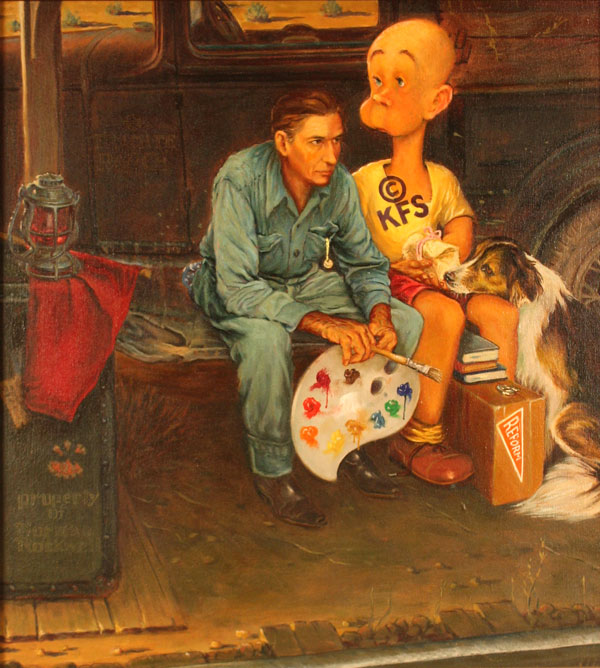 Secrets Behind the Wall:
The Don Trachte Replicas
May 27, 2016 – September 3

, 2017
Don Trachte was born in Madison, Wisconsin, and began drawing cartoons at age 17 as the assistant to Carl Anderson, the creator of the "Henry" comic strip. Trachte took over the Sunday strips in 1946 before Anderson's death in 1948, and continued to draw "Henry" until 1993. In 1950, Trachte bought a house from illustrator Mead Schaeffer and moved to Arlington, VT, a thriving artist community. He soon became close friends with Norman Rockwell, Arlington's most notable artist resident, and eventually even modeled for his May 23, 1953 Saturday Evening Post cover, The Shiner.
In 1962, Trachte bought Norman Rockwell's 1954 Saturday Evening Post cover painting Breaking Home Ties for $900, and it quickly became his most prized possession. In 2002 he loaned Breaking Home Ties to an exhibition at the Norman Rockwell Museum in Stockbridge, Massachusetts. Experts were puzzled over discrepancies between the loaned painting and the printed Saturday Evening Post cover. Then, in 2005, a year after Don's death, the Trachte family made a surprising discovery. A false wall was exposed in Trachte's studio concealing Rockwell's original Breaking Home Ties with seven other paintings by artists including Gene Pelham, Mead Schaeffer, and George Hughes.
Trachte and his wife Elizabeth divorced in 1973, and the divorce settlement transferred legal ownership of Trachte's eight paintings to their children. Trachte's sons believe he may have painted the nearly exact copies to prevent his estranged wife from ever obtaining the original artworks, which remained hidden for the next 32 years. In 2006, Breaking Home Ties sold for $15.4 million, setting the record price for a Rockwell painting at that time. The current record is over $46 million.
The NMAI is proud to display Trachte's replicas alongside many of the original paintings by beloved illustrators. The exhibition also features a selection of Trachte's Henry cartoons.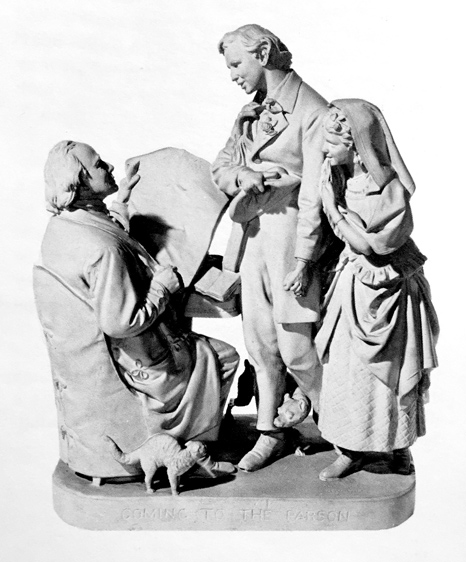 John Rogers: The Norman Rockwell of Statuary
May 27, 2016 – December

, 2017
John Rogers was born in Salem, MA, in 1829. During the last half of the 19th century he was recognized as the preeminent popular artist of his time. Through his realist style, Rogers created reflections of everyday life in sculpture, just as Norman Rockwell subsequently painted on canvas. The NMAI is proud to display 29 unique John Rogers groups throughout Vernon Court.
Rogers had an early love of art, but his family hoped he would pursue a more traditional career. At the age of 16 he accepted a traditional apprenticeship in Boston, and would move through a number of jobs for the next 13 years. Finally, in 1858 Rogers travelled to Europe to receive a formal education in sculpting for one year.
Now 27, Rogers returned to New York City to open a production studio, beginning a full-time artistic career. Rogers wanted to create high quality, low-cost plaster casts of his sculptural "groups," named because each sculpture usually contained two or more figures. By creating numerous casts of each piece, the cost remained reasonable, in the reach of middle-class Americans. In 1862, Rogers showed two of his groups at the National Academy of Design's annual exhibition and was granted membership in 1863, a prestigious honor. Between 1860 and 1893, Rogers created 90 groups and those were reproduced as many as 100,000 times.
These groups generally fall into three categories: Civil War vignettes, everyday 19th century life, and theatrical scenes. During this time he employed up to 25 workmen in his New York studio. The process of reproduction began with a metal "master" sculpture, and a newly developed flexible gum mold process was used to duplicate it around metal armatures for stability. Delicate features, such as horse ears, were first cast in pewter and attached to the wet plaster statue, and lastly the whole statue was painted in a neutral color. By the 1890's Rogers groups ceased to be fashionable and he sold the business in 1893. Sadly, he died nearly forgotten, in 1904.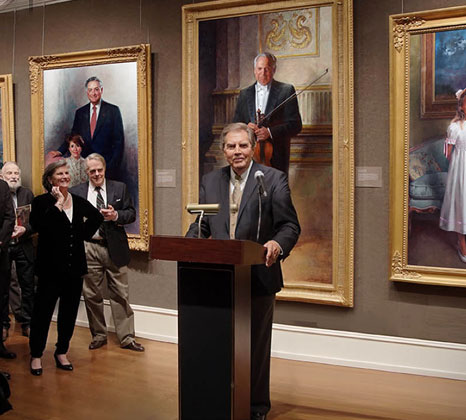 NMAI Lecture Series: "Life Lessons Learned from Norman Rockwell" by John Howard Sanden
July 22, 2017, 1:30PM
Please join the NMAI in welcoming Mr. John Howard Sanden to our ongoing lecture series. Mr. Sanden will speak on his "Life Lessons Learned from Norman Rockwell".
Mr. Sanden is an accomplished portrait artist, most notably completing the office White House portraits of former President George W. Bush and First Lady Laura Bush in 2012. He was the Art Director for the Billy Graham Evangelistic Association from 1955 to 1970, and founded the Portrait Institute.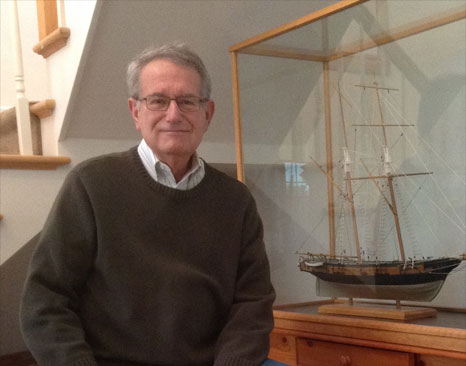 NMAI Lecture Series: "Ocean State Women and the Homefront in World War II" by Brian Wallin
August 12, 2017, 1:30PM
Please join the NMAI in welcoming Brian Wallin to our ongoing lecture series. Mr. Wallin will discuss "Ocean State Women and the Homefront in World War II."
Brian Wallin, a veteran broadcast news reporter and producer, worked in Hartford, Providence, and Boston while contributing to ABC, CBS, and NBC news. He also covered the America's Cup yacht races from 1967-83 for CBS Sports and the 2UE Network in Australia. After 20 years in broadcast journalism, Brian became a hospital management executive, serving in senior leadership roles in Massachusetts and Maryland before returning to Rhode Island in the 1990s. He served as Vice President of South County and Kent Hospitals, retiring in 2009. He remains active on several hospital committees. In addition to his writing and freelance voice-over work, Brian is an avid model ship builder and guitarist. He has been a member of the Varnum Continentals since 2009 and a Trustee since 2012.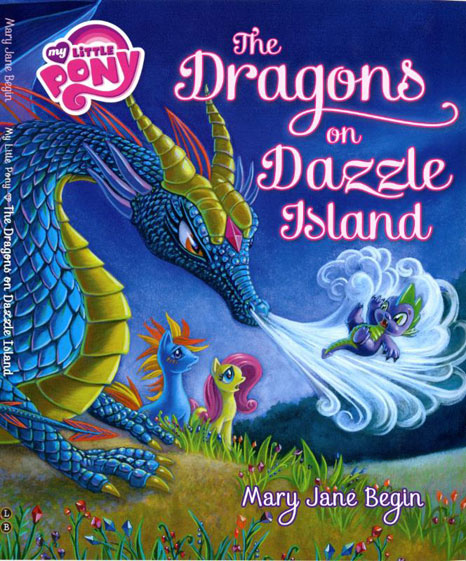 NMAI Lecture Series: "My Little Pony: The Dragons on Dazzle Island" by Mary Jane Begin
August 26, 2017, 1:30pm
Please join the NMAI in welcoming May Jane Begin to our ongoing lecture series. Ms. Begin will discuss upcoming book "My Little Pony: The Dragons on Dazzle Island".
Mary Jane Begin is a Senior Critic in the Illustration Department at the Rhode Island School of Design (RISD), where she has taught for twenty-four years and serves as the Internship + Professional Development Advisor. Her latest teaching venture includes on line video courses with Lynda.com:  The Foundations of Color, Elements of Composition for Illustrators, Artist at Work series and Character Development and Design.
Born and based in Rhode Island, Mary Jane is an award-winning illustrator and author known for her acclaimed picture books; Little Mouse's Painting, A Mouse Told His Mother, The Sorcerer's Apprentice and Willow Buds, tales inspired by The Wind in the Willows, a classic tale that she also illustrated.  Mary Jane wrote and illustrated her latest picture book, My Little Pony: Under the Sparking Sea published by Little Brown and Company in collaboration with Hasbro, with a new book in the series, The Dragons on Dazzle Island.
Past Exhibitions & Events
NMAI Lecture Series: "Designing the Batmobile Concept for 2020!" by Joan Creamer
July 1, 2017, 1:30PM
Please join the NMAI in welcoming the next guest in our ongoing lecture series, Joan Creamer! Ms. Creamer will discuss her work in the automotive industry, the design history of the 1966 Batmobile used by Adam West in the original Batman television series, and unveil her concept for a "2020" version of the same car.
Ms. Creamer has had numerous careers and garnered many honors. After attending Cleveland Institute of Art she became General Motors' first female exterior designer. Upon leaving the auto industry, her next career move was to design for General Electric. Joan then started her own freelance business of product design. Her clientele and mediums have varied over the years; she's even designed crystal items for Lenox and photo frames for Things Remembered! Recently Joan was honored with the request to design an Easter Egg for First Lady Laura Bush's private collection.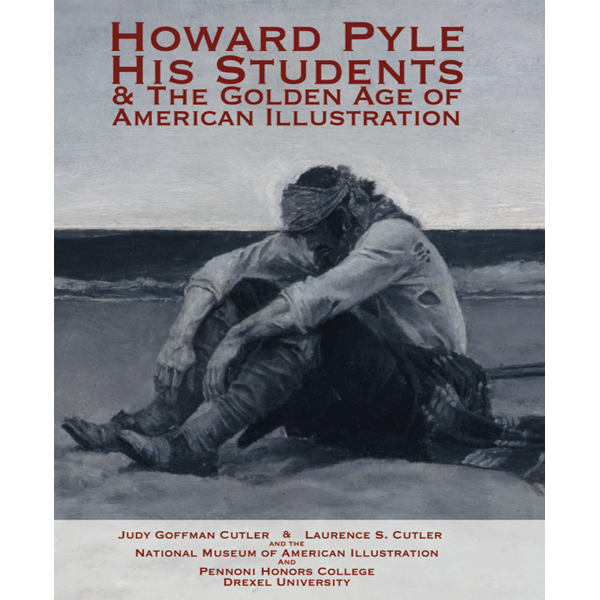 NMAI Founders, Laurence & Judy Cutler, Give Private Tour of Howard Pyle, His Students & The Golden Age of American Illustration at Drexel University
May 12, 2017 at 4:30pm
Please join the NMAI Founders for an exclusive tour of our traveling exhibition, Howard Pyle, His Students & The Golden Age of American Illustration, currently on display at Drexel University's Paul Peck Alumni Center.
This tour is free with advance reservations. To reserve space, please call (401) 851-8949 ext. 18, or email art@americanillustration.org
A 260-page illustrated catalogue will accompany this exhibition, available for pre-order now through the National Museum of American Illustration's Online Museum Shop, click here for more information.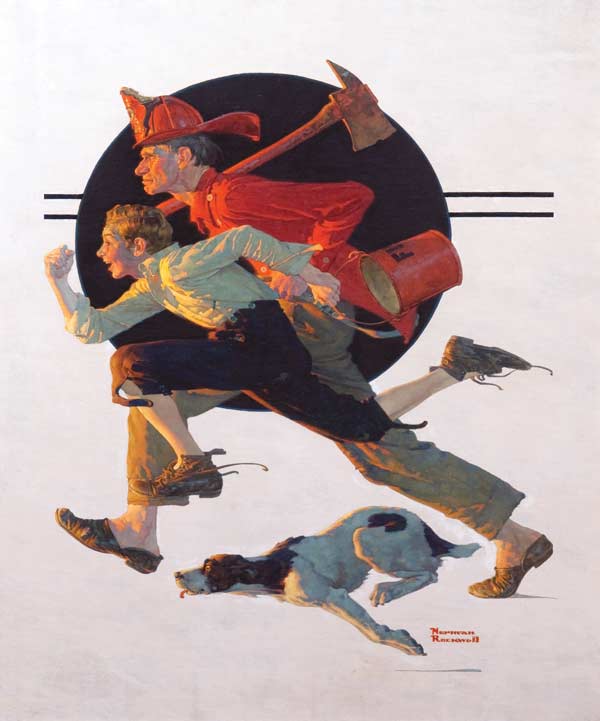 Norman Rockwell and His Contemporaries


May 22, 2015 – 

May 26, 2017
Norman Rockwell and His Contemporaries is a thematic exploration of artworks by Rockwell and his peers: those who were influenced by Rockwell and those who influenced the master himself. The most noted artist-illustrators of Rockwell's time knew each other as colleagues, classmates, and friends, living and working together in relevant artist communities, sustaining one another, and sharing clients and models. They were united with a common purpose: to accurately portray our nation visually and meet its ever-rising demands for more images as publishing and distribution systems expanded capabilities.
Norman Rockwell (1894-1978) is best known for his iconic covers for the Saturday Evening Post, painted during the 20th century. His heart-warming depictions of American life are universally relevant, creating a lasting connection to national and international audiences alike. His ability to create memorable stories and quintessential scenes through his artworks makes them perennial, still enchanting audiences today. Despite early criticisms of illustration art, as of December 2013, Rockwell now ranks amongst the most expensive and most sought after artists. This monumental record elevates illustration art and its historical and cultural significance, marking an unprecedented recognition and appreciation by the art world.
Highlighted alongside Rockwell in this exhibition and its corresponding catalogue are five renowned illustrators from the Golden Age: John Clymer, Stevan Dohanos, John Falter, George Hughes, and Mead Schaeffer. Clymer flawlessly captured the vast wilderness of the American West in his scenic magazine covers featuring boundless landscapes. Dohanos' clear visual images gave audiences poignant glimpses of Americana on magazine covers, stamps and more. Falter's humorous depictions of children and the everyday lives of Americans became an entertaining principle of the Saturday Evening Post throughout the 1940's and 1950's. A foundation in fashion and graphic design led Hughes to create highly stylized, elegant illustrations for magazine covers and stories. Prolific in illustrations for adventure novels before moving to magazine covers, Schaeffer's authentic portrayals of pirates, buccaneers and soldiers made him one of the truly great "Golden Age" illustrators.
These illustrators reflected and molded American society by depicting universal themes that are still held dear today, including courtship and love, family gatherings, sports, holidays, seasons and many more. The 350-page exhibition catalogue features artworks by 100 illustrators from throughout the 20th century and explores how these artists were influenced by each other through a selection of common themes. The exhibition catalogue is available from our online Museum Shop here.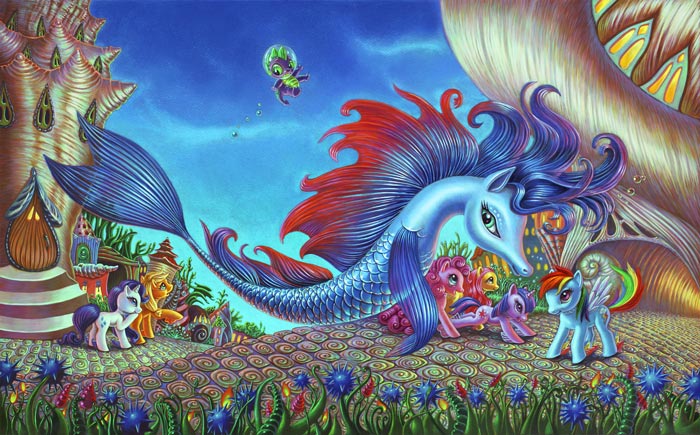 My Little Pony: Under the Sparkling Sea by Mary Jane Begin
June 2013 – 

May 26, 2017
Mary Jane Begin has twenty-five years of experience as a professional illustrator and notable faculty member at the Rhode Island School of Design. She has illustrated numerous books including the 100th anniversary edition of Kenneth Grahame's The Wind in the Willows as well as Willow Buds, a prequel series Begin authored and illustrated.
Doubtlessly based upon her impeccable story-telling ability and extraordinary artistic skills demonstrated in her previous works, Begin was selected by the Hasbro toy company to write and illustrate the newest book in the My Little Pony series. The book, Under the Sparkling Sea, is as the title suggests, is a My Little Pony story with an aquatic theme. Begin does an inimitable job of portraying characters from the well known children's franchise in a setting not commonly associated with ponies. Her bold and intense use of colors in the underwater environment and nuanced depictions of the facial expressions convey the characters' wonderment at the strange and new world they experience.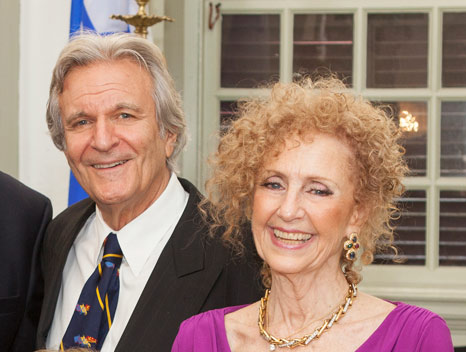 Cultural Connections: NMAI Founders, Laurence & Judy Cutler, Speak at Newport's Rosecliff Mansion
May 3, 2017 at 12:00pm

This lecture is a highlight of the Preservation Society of Newport County's Cultural Connections Series, a round of monthly, informal presentations by the directors of some of our sister organizations in Rhode Island.  It's a great opportunity to learn more about the cultural landscape of our community.  This will be an one-hour meet-and-greet, in which Judy and Laurence Cutler will explore the history of their organization and highlight some of their important events and programs.
Admission is free, but seating is limited and advance registration is required.  Register online, or call 401-847-1851.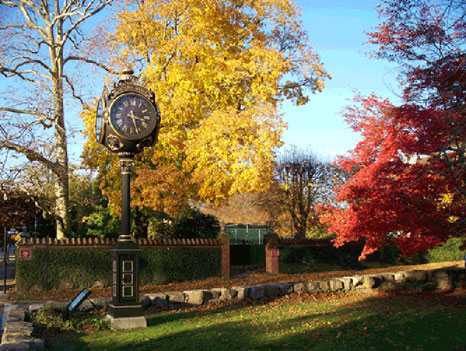 Tree Tour of the Frederick Law Olmsted Park & Arboretum
April 28, 2017 at 2:00pm
Join a free guided tour of the highlights of the Frederick Law Olmsted Park & Arboretum, an ArbNet internationally recognized arboretum at the National Museum of American Illustration.
The nearly three-acre grounds of the former Stoneacre estate were landscaped in 1886 by Frederick Law Olmsted, the Father of American landscape architecture. Olmsted envisioned a "park-like setting" with a variety of exotic trees. He obtained many of the trees used on this project from a nursery in Bristol, Rhode Island, operated by a former medical doctor in Japan, Dr. George Rogers Hall. Four of the arboretum's trees are now Rhode Island Champion Trees.
This event also marks the inauguration of the National Museum of American Illustration's self-guided QR code based tree tour. Identification signs on major trees will include a QR code. Visitors with smart phones will be able to scan the code and learn more about the many species.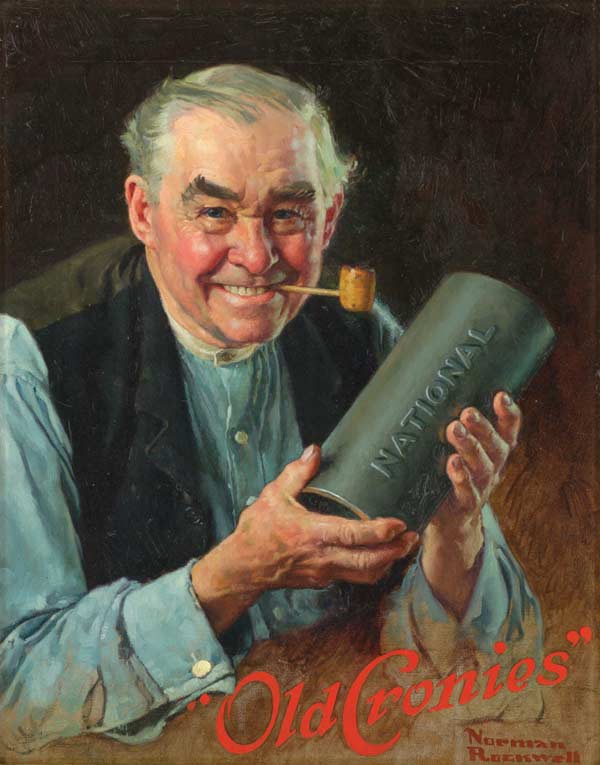 Advertising as Art
January 5, 2015 – 

May 26, 2017
Advertising as Art exhibition explores a selection of "Golden Age" illustrator's methods of advertising for a variety of  clients during the first half of the 20th Century. Every advertisement presented the illustrator with a particular challenge: how to best promote that unique product to the public. While some advertisements highlight the inherent qualities and benefits of using a certain product, others found that placing a product into a grander setting was more effective and attracted much greater attention to it. This idea of actually branding a product to a wide audience is widely used in most present day advertising, but it was first born from these "Golden Age" illustrators' artworks.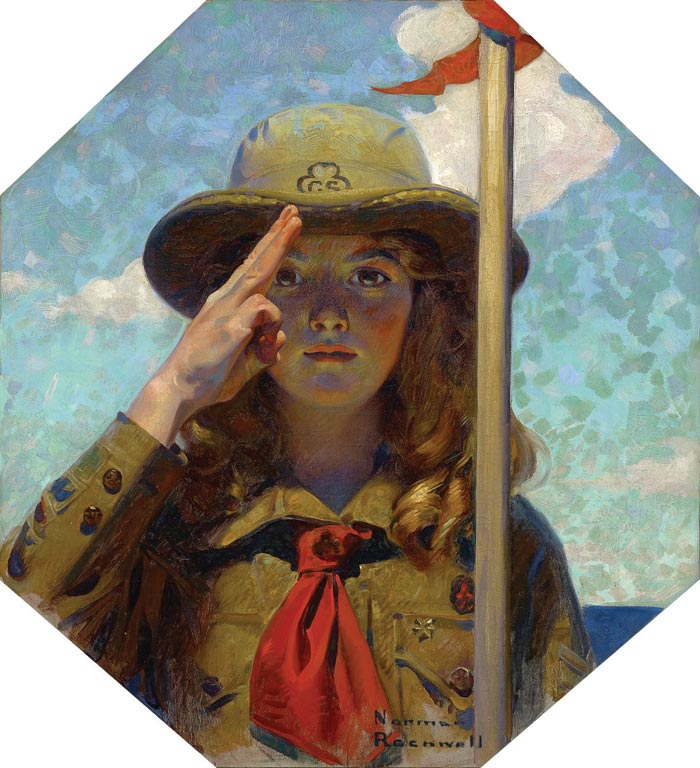 NMAI's Silent Benefit Auction
July 21- September 8, 2016
The NMAI will host a Silent Benefit Auction beginning on July 21st and accepting bids through Labor Day Weekend. The Auction proceeds will benefit future exhibitions at the NMAI. The auction items will be available to bid on at the NMAI, via phone or email,  or can be purchased for a "Buy It Now" price immediately!
Visit the Silent Benefit Auction page here for more information and a complete listing of items for sale.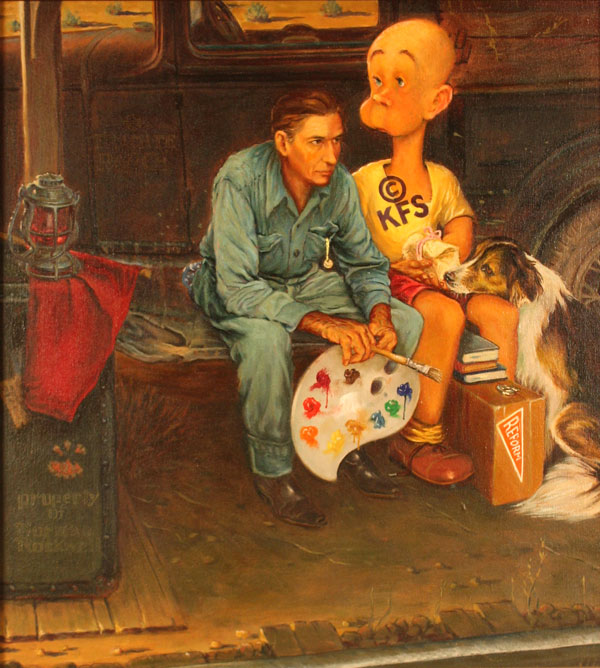 Secrets Behind the Wall: A Lecture by Don Trachte, Jr.
July 21, 2016, 1:00pm
Join us on Thursday, July 21st, 1pm, to hear the true story of one of the greatest art forgeries of the 20th Century, as first reported in the New York Times.
Celebrated cartoonist Don Trachte amassed an collection of original Arlington, Vermont artists, including one of Norman Rockwell's best known paintings.
In the 1970s, afraid he would lose his paintings in a bitter divorce, Trachte secretly painted eight masterful forgeries. Then he did something extraordinary… he hid the originals behind a sliding wall and displayed the replicas.
He told no one. There they stayed in for nearly 30 years. It was only after his death that his family made the find that shocked the art world.
Don's son, Don Trachte, Jr., will tell the personal story of his father's forgeries, currently on display at the NMAI next to several of the original versions. The lecture is free with the price of admission to the NMAI.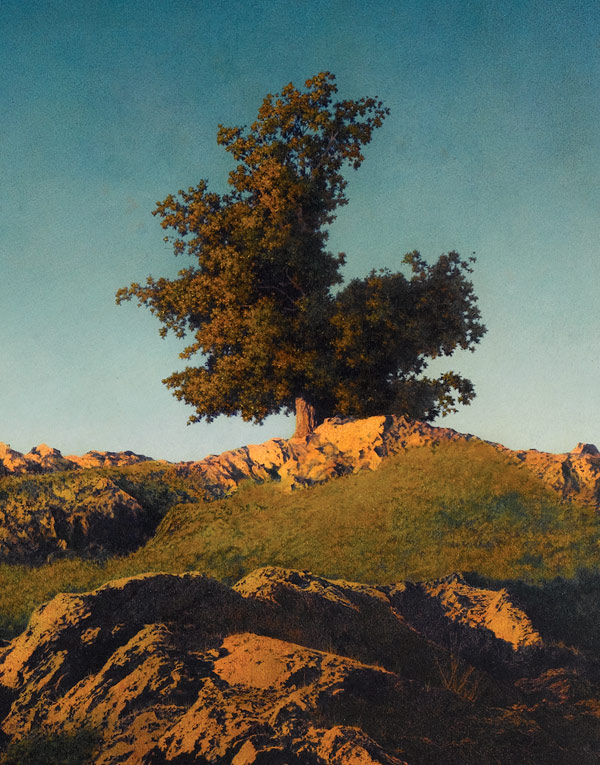 A Celebration of Trees Opening Event
May 28, 2016, 11am - 1pm

The Helen Walker Raleigh Champion Tree Program, administered by the Rhode Island Tree Council, evaluated the trees on the grounds of the National Museum of American Illustration and Olmsted Park and identified and classified four trees as newly designated "State Champion Trees." Additionally, as of January 2016, the Frederick Law Olmsted Park and grounds of the National Museum of American Illustration were accredited as a Level I Arboretum, certified by the Moreton Register of Arboreta and the International ArbNet Program.
To note these momentous events, the NMAI is hosting A Celebration of Trees, a free event open to the public on Saturday, May 28th, from 11am to 1pm, on the grounds of our Fredrick Law Olmsted Park on Bellevue Avenue.  
At the celebration we will formally accept the designation of these trees from the Rhode Island Tree Council and will officially dedicate the property as a certified arboretum. There will be brief remarks from dignitaries, including Dr. Brian Maynard, Professor of Horticulture in URI's Department of Plant Science, and at the conclusion we will be offering public tours of the grounds so attendees can learn about these stately trees. Admission to the National Museum of American Illustration will also be discounted half off to all attendees.
Having four "State Champion Trees" at one location is, in itself, remarkable! The particular four trees selected are unprecedented for their selection by Rhode Island State officials for two reasons: Firstly, many other Rhode Island Champion Trees are on private land and unavailable to the public, while these particular Champions are on land which actually welcomes public visits; Secondly, three of the selected trees were planted in 1884 by America's first and most preeminent landscape architect, Frederick Law Olmsted, for whom our Olmsted Park & Arboretum were named.
 Four State Champion trees make up the Arboretum's Signature Collection. The Rhode Island Helen Walker Raleigh Champion Tree Program field examiners identified these four trees in 2015 as State-wide Champions: a magnificent Cutleaf European Beech (Fagus sylvatica 'Asplenifolia'); a native Cucumber Magnolia (Magnolia acuminate); an exceptionally rare Japanese Yeddo Spruce (Picea jezoewnsis var. hondoensis) selected and planted by Olmsted for the site; and a Zelkova (Zelkova serrata), also selected and planted by Olmsted and believed to be the largest and oldest in the United States.
For more information on the Fredrick Law Olmsted Park and Arboretum, and the grounds of the National Museum of American Illustration, please click here.