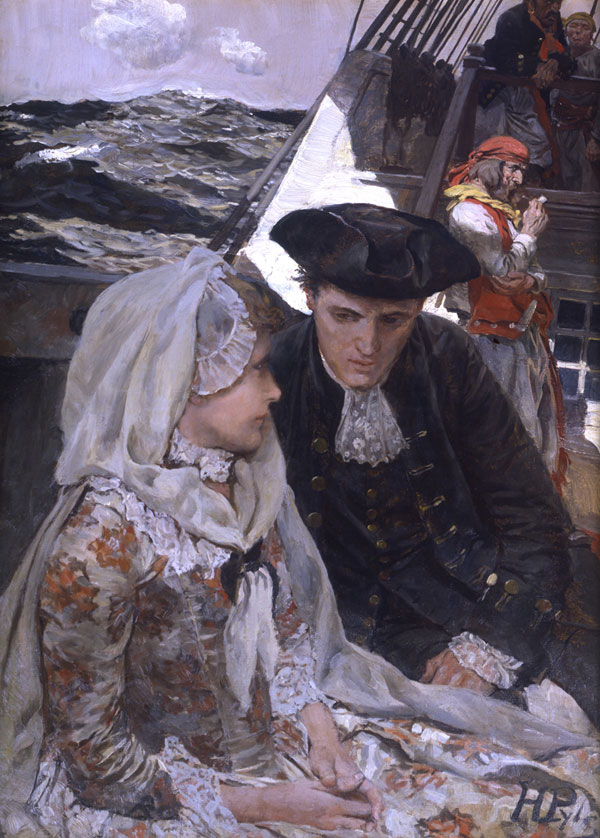 Howard Pyle, His Students & The Golden Age of American Illustration


May 26, 2017 – December

, 2017
Howard Pyle, His Students & the Golden Age of American Illustration is a exhibition featuring oil paintings, works on paper, and accompanying artifacts that highlight the work of Howard Pyle, known as the "Father of American Illustration", and the generation of celebrated illustrators he taught. In 1894, Pyle founded the first School of Illustration in America at Drexel Institute of Art, Science and Industry, now Drexel University, shaping the way illustrators created artworks thereafter.
"A.J. Drexel founded the Drexel Institute in 1891, and when he did, he made it clear that his vision should be accessible for both men and women from all backgrounds, which was unique for a college of that time period," said Paula Marantz Cohen, Pennoni Honors College dean. "Pyle's time at Drexel undoubtedly shaped the field of American Illustration. He was an early parallel advocate of Drexel's philosophy of 'learning by doing' encouraging his students to go out into the world to study their subject matter, an approach reflected in Drexel's present-day Co-op program."
Howard Pyle taught at the Drexel Institute until 1900 when he founded the Howard Pyle School of Illustration in Wilmington, Delaware. His students at both schools became known as "The Brandywine School," which included some of America's greatest illustrators: Stanley Arthurs, Anna and Ethel Betts, Harvey Dunn, Anton Otto Fischer, Philip R. Goodwin, Elizabeth Shippen Green, W.H.D. Koerner, Violet Oakley, Frank Schoonover, Jessie Willcox Smith, Sarah Stilwell Weber and N.C. Wyeth.
Pyle's innovative teaching methods encouraged his students to live their illustrations, therefore painting from experience, not merely from observation. This new principle, taught at the verge of the publishing boom of the 20th century, laid the foundation for a century of America's iconic illustrators. His influences greatly contributed to illustrative painting and drawing becoming one of the truest forms of applied art.
"Today everyone knows the name Norman Rockwell but few people know the name Howard Pyle, let alone his art or his impact on generations of artists and American illustration," says Judy Goffman Cutler, co-founder of the National Museum of American Illustration. "This exhibition will give viewers a first-hand and close-up look at the marvelous original paintings that most people have only seen in reproduction form." To highlight the importance of Pyle's teachings on all of America's Golden Age illustrators, a selection of artworks from later periods will be on display, including Norman Rockwell, J.C. Leyendecker and Howard Chandler Christy.
A 260-page illustrated catalogue will accompany this exhibition, available for pre-order now through the National Museum of American Illustration's Online Museum Shop, click here for more information.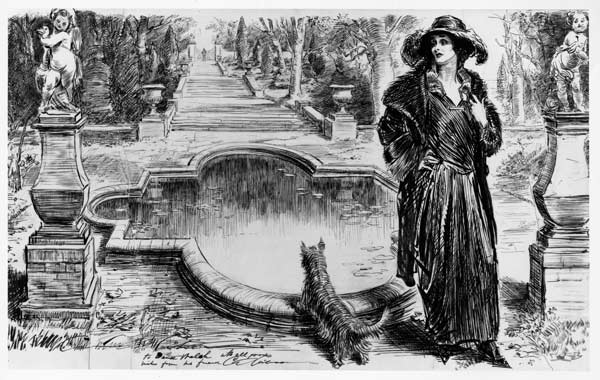 American Muse
May, 2015 – May 4, 2018
The American Muse exhibition is as much an homage to American women of the late 19th and early 20th centuries as it is to the illustrators who accurately portrayed the quintessential yet distinctly American feminine beauty these women embodied. The American illustrators highlighted include Charles Dana Gibson, Harrison Fisher, Philip Boileau, McClelland Barclay, Howard Chandler Christy, Walter Granville Smith and Albert Beck Wenzell.
Each of these illustrators created their own prototypical image of "The American Woman." The public gave these illustrators' artworks generic names as part of their respective oeuvre, most popularly "The Gibson Girl" and "The Fisher Girl." These renditions of the feminine ideal captured the increasingly independent spirit of American women. The illustrations both shaped and reflected American society and its notions of female beauty. Compared to women of previous eras these women relished more freedoms, enjoyed greater opportunities in sports and education, and were in the vanguard during a time when women effected change through social and political movements on an unprecedented scale in Western culture.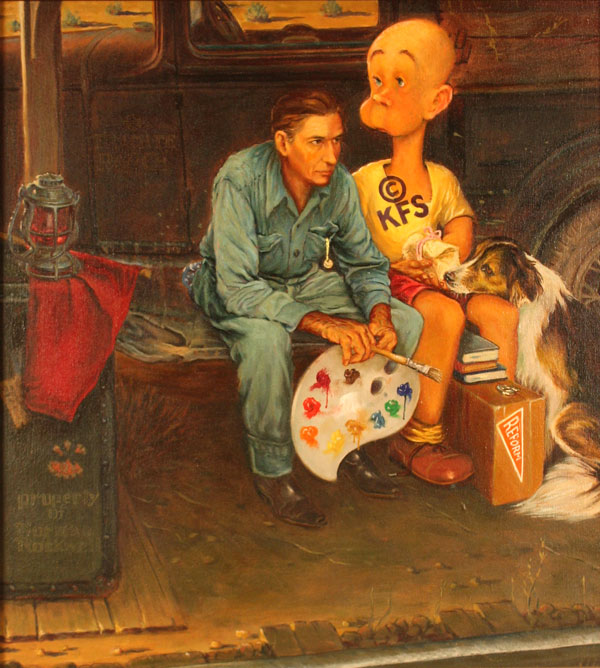 Secrets Behind the Wall:
The Don Trachte Replicas
May 27, 2016 – October 13

, 2017
Don Trachte was born in Madison, Wisconsin, and began drawing cartoons at age 17 as the assistant to Carl Anderson, the creator of the "Henry" comic strip. Trachte took over the Sunday strips in 1946 before Anderson's death in 1948, and continued to draw "Henry" until 1993. In 1950, Trachte bought a house from illustrator Mead Schaeffer and moved to Arlington, VT, a thriving artist community. He soon became close friends with Norman Rockwell, Arlington's most notable artist resident, and eventually even modeled for his May 23, 1953 Saturday Evening Post cover, The Shiner.
In 1962, Trachte bought Norman Rockwell's 1954 Saturday Evening Post cover painting Breaking Home Ties for $900, and it quickly became his most prized possession. In 2002 he loaned Breaking Home Ties to an exhibition at the Norman Rockwell Museum in Stockbridge, Massachusetts. Experts were puzzled over discrepancies between the loaned painting and the printed Saturday Evening Post cover. Then, in 2005, a year after Don's death, the Trachte family made a surprising discovery. A false wall was exposed in Trachte's studio concealing Rockwell's original Breaking Home Ties with seven other paintings by artists including Gene Pelham, Mead Schaeffer, and George Hughes.
Trachte and his wife Elizabeth divorced in 1973, and the divorce settlement transferred legal ownership of Trachte's eight paintings to their children. Trachte's sons believe he may have painted the nearly exact copies to prevent his estranged wife from ever obtaining the original artworks, which remained hidden for the next 32 years. In 2006, Breaking Home Ties sold for $15.4 million, setting the record price for a Rockwell painting at that time. The current record is over $46 million.
The NMAI is proud to display Trachte's replicas alongside many of the original paintings by beloved illustrators. The exhibition also features a selection of Trachte's Henry cartoons.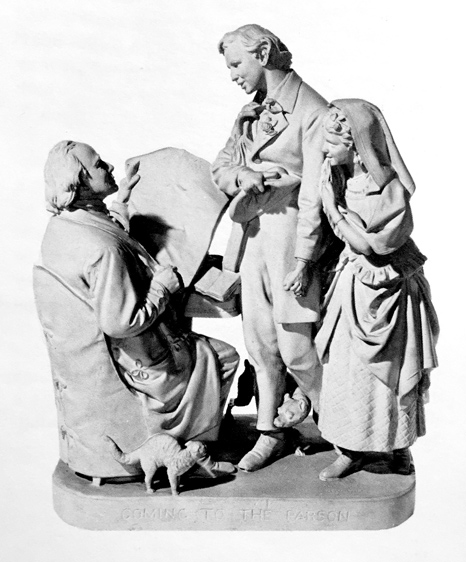 John Rogers: The Norman Rockwell of Statuary
May 27, 2016 – December

, 2017
John Rogers was born in Salem, MA, in 1829. During the last half of the 19th century he was recognized as the preeminent popular artist of his time. Through his realist style, Rogers created reflections of everyday life in sculpture, just as Norman Rockwell subsequently painted on canvas. The NMAI is proud to display 29 unique John Rogers groups throughout Vernon Court.
Rogers had an early love of art, but his family hoped he would pursue a more traditional career. At the age of 16 he accepted a traditional apprenticeship in Boston, and would move through a number of jobs for the next 13 years. Finally, in 1858 Rogers travelled to Europe to receive a formal education in sculpting for one year.
Now 27, Rogers returned to New York City to open a production studio, beginning a full-time artistic career. Rogers wanted to create high quality, low-cost plaster casts of his sculptural "groups," named because each sculpture usually contained two or more figures. By creating numerous casts of each piece, the cost remained reasonable, in the reach of middle-class Americans. In 1862, Rogers showed two of his groups at the National Academy of Design's annual exhibition and was granted membership in 1863, a prestigious honor. Between 1860 and 1893, Rogers created 90 groups and those were reproduced as many as 100,000 times.
These groups generally fall into three categories: Civil War vignettes, everyday 19th century life, and theatrical scenes. During this time he employed up to 25 workmen in his New York studio. The process of reproduction began with a metal "master" sculpture, and a newly developed flexible gum mold process was used to duplicate it around metal armatures for stability. Delicate features, such as horse ears, were first cast in pewter and attached to the wet plaster statue, and lastly the whole statue was painted in a neutral color. By the 1890's Rogers groups ceased to be fashionable and he sold the business in 1893. Sadly, he died nearly forgotten, in 1904.